Kylie Jenner looked like she rolled right out of bed in her silky, pinstripe pants and matching lace-trimmed cami as she stepped out for a glam night at The Nice Guy in LA on July 15, where she opted for a lingerie-inspired look. Was it sexy chic or too much like sleepwear for your liking? Check it out and VOTE.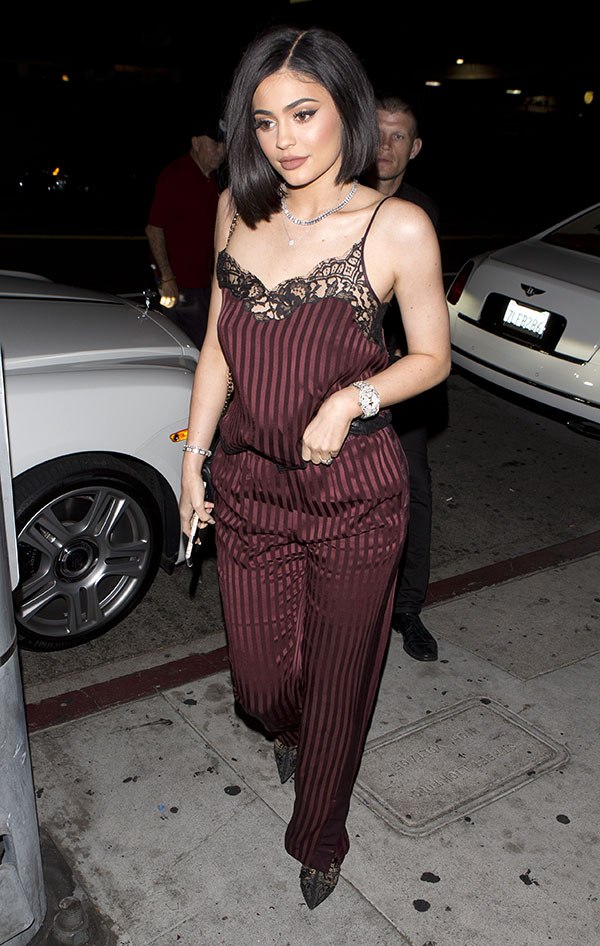 Lingerie-inspired looks were all over the runway for Spring 2016 and the sexiest stars have totally embraced the look — and it's no surprise that Kylie Jenner, 18, has an affinity for trendy, sexy new styles! The teen tried the trend all while rocking silky pinstripe pants and a matching camisole — but her look seemed more like pajamas than a party outfit! We're literally seeing stripes.
We've seen her don slip dresses, but this was definitely a new look for the star. Kylie looked pretty in the pinstripe ensemble, which stayed true to the lingerie-inspired theme thanks to the lace trim detailing on her top, the fit of the outfit and the fabric. While we're all for embracing new trends, had she rocked the cami or just the pants it would've seemed less like a pajama set — but Kylie pulled it off in a way only she could! With her new short 'do, the focus was really on the outfit. It was also cool to see her switch up her style, leaving her skintight, cutout silhouettes behind in favor of something more comfortable — and it's the sexiest take on pinstripes we've seen in quite some time.