Kylie Jenner is totally taking NYC by storm, turning the sidewalk into her very own runway, and just in time for New York Fashion Week! The trend-setting teen traded her seriously sexy outfit for a dressed down t-shirt, which she wore sans pants — a look that Kim Kardashian has totally mastered! Who do you think rocked the trend best? Check out our sister showdown above & VOTE!
No pants? No problem! Kylie Jenner, 19, traded her red hot outfit for the Kanye West concert at MSG on Sept. 6 for a way more comfortable ensemble as she emerged in a black t-shirt, which she rocked with checkered Vans as she sported the roomy silhouette as a dress. Seeing her rock the top sans pants instantly reminded us of her big sis, Kim Kardashian, who has really made the look her own and even inspired us to examine the look further.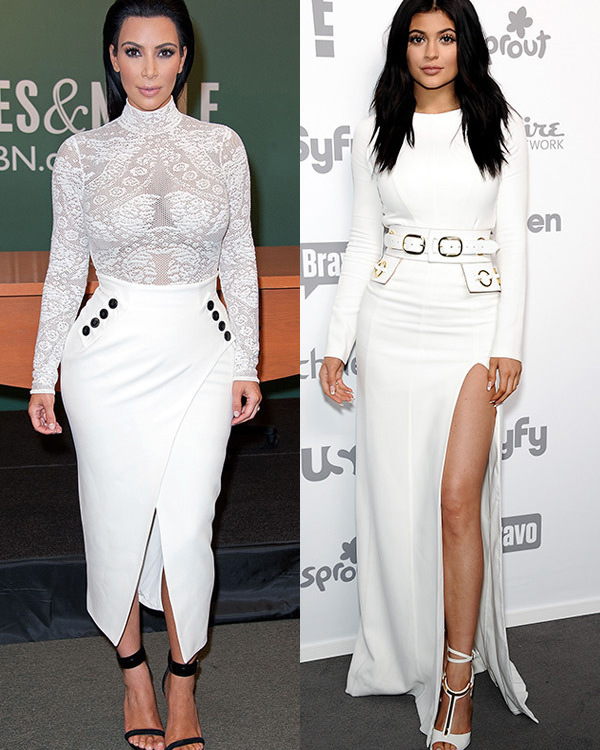 While Kylie opted for slip-on sneakers with the look, Kim rocked the top with towering lace-up heels — and I love the way each gal stayed true to her own individual sense of style as they sported the trend. We love when fashion meets function and honestly it doesn't get any more comfortable than a t-shirt dress! Kim has sported the silhouette on a slew of occasions.
Prior to sporting the style Kylie stepped out in a high-waisted skirt and bustier top, looking so sexy as she attended the Yeezy show — we love how versatile her NYC style has been so far, all while she shows off her new bleach blonde 'do.
Who do you think rocked the trend better? Do you like the way Kylie sported the oversized t-shirt dress or do you prefer seeing the pantless silhouette on Kim? Check out how they rocked the trend above and VOTE and let us know. Is this one look you can't wait to try?