Kendall Jenner is on the October 2016 cover of 'Vogue' Japan with a dramatic smokey eye, dark lip and braids. Do you love or loathe this high-fashion look?
We nearly lost it when we saw Kendall Jenner, 20, on the September issue of American Vogue. Her fresh-faced beauty look was stunning, chic and classic.
But her cover days are just beginning — she is now on the cover of the October issue of Japan's Vogue, with a very different beauty look.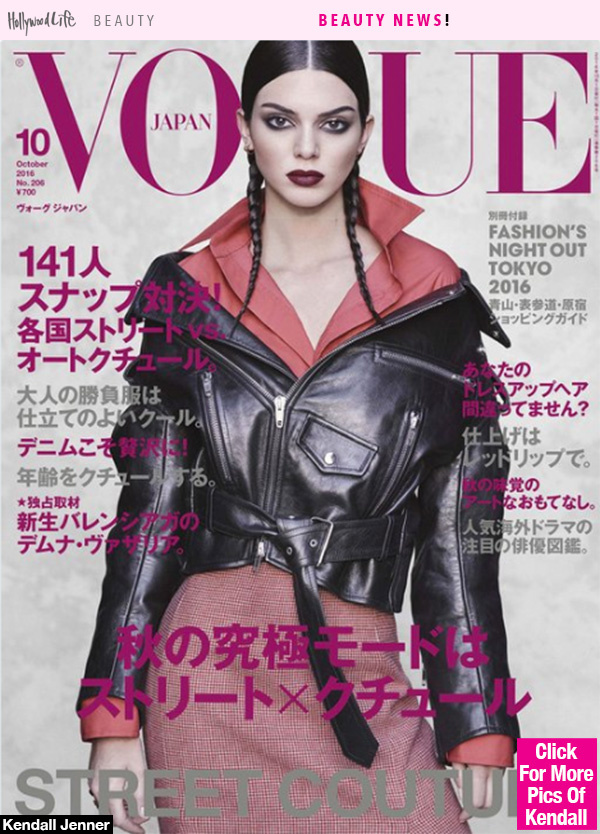 This time around, she's rocking a sleek and slick center part in her hair, with tight, braided pigtails. Her makeup is sexy and smokey — a dark, berry lip, smokey eyes and chiseled cheeks
Kendall just told American Vogue how she doesn't necessary identify with her Kardashian family — "I've always been superdifferent from all my sisters, especially my Kardashian sisters. They've always been into the glam thing and dressing up every day and being in the thick of it. Part of me loves that, but at the same time, I love dressing down and having my private life."
Kendall continued: "It's almost, like, empowering to know that no one knows we're sitting here right now — because it's not usually like this. Every day, I have to find a way to escape; I have to go borrow someone else's car. Sometimes it takes me an hour to figure out how to get rid of these guys who have been following me all day. And the second that I feel it getting the better of me, I have to go chill myself out –go take a bath or something to, like, disconnect from it. It keeps you real and sane and humble."