Over the years, we've seen Bollywood evolve from the famed stuntman routines and using classical, traditional instruments to the sci-fi-esque effects and more western-influenced music thanks to the marvels of modern technology. We take a look at how Bollywood has adapted to these changes.
Remember the days where actors and actresses would perform in front of hand painted backdrops, and would sit in very obvious stationary cars while there was a projected video of a road in the background? Things have definitely come a long way.
Speaking to Kamlesh, a life long Bollywood fan, he feels there's definitely been a huge progression when it comes to the films:
"There's definitely a lot more improvement in terms of quality, realism and visual effects. Because of the advancements of modern technology, a lot of what they're doing on screen seems very real," he says.
In comparison to the painted backdrops Kamlesh is used to, seeing entire sets recreated using only computer-generated imagery is something that is fascinating.
It's not just the visual aspect of Bollywood that has been affected, but the musical element, too. From using traditional instruments and classical vocals, the music of Bollywood has vastly changed over the years.
We're going to take a look at how Bollywood has been affected and how the filmmaking process has been altered with the use of ever-changing technology.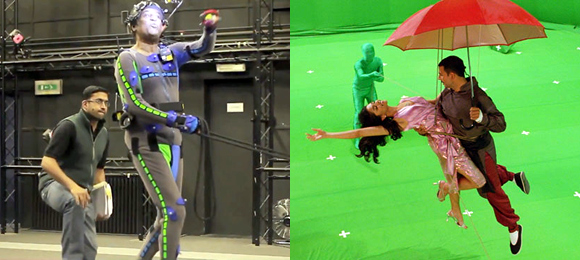 Way back in the 1930s, film sets were minimal but looked extravagant; set pieces were visibly flimsy, polystyrene-like constructions, windows had views that were painted onto solid walls or large sheets of paper.
That's not to say it didn't work: there's a certain amount of leeway that we, as the audience provide. We know it's not real, but we let it slide because everything else in the film compensates for the minimal set design.
It's only in recent years that Bollywood has begun to fully grasp the capabilities of visual effects in feature releases.
But how has this affected the Indian film industry? Are the days of the stuntman over? Do we need stuntmen anymore? Or are movies too reliant on CGI (Computer Generated Imagery)?
In 2014, Rajinikanth returns to the big screen with another innovative take on Bollywood as the titular character, but not in a traditional sense.
Kochadaiiyaan, or, 'King with matted hair'. Kochadaiiyaan utilises the technology of 3D motion capture and encapsulates Rajinikanth as the main protagonist and Deepika Padukone as the film's heroine.
Kochadaiiyaan, or, 'King with matted hair'. Kochadaiiyaan utilises the technology of 3D motion capture and encapsulates Rajinikanth as the main protagonist and Deepika Padukone as the film's heroine.
This is a huge step for Bollywood: Kochadaiiyan is the first Bollywood film to fully utilise facial performance capture technology, as well as the first film that live action performers have been used for this process.
It follows in the footsteps of such films as Hollywood's The Polar Express, which also took advantage of motion capture technology.
2009's Chandni Chowk To China contains a scene on a dock in which Akshay Kumar is faced with the seemingly impossible feat of defeating a rather large number of assailants.
With planned wire work, well-timed choreography, minimal CGI and more focus on real stunt work, the film feels more authentic and provides a sense of realism.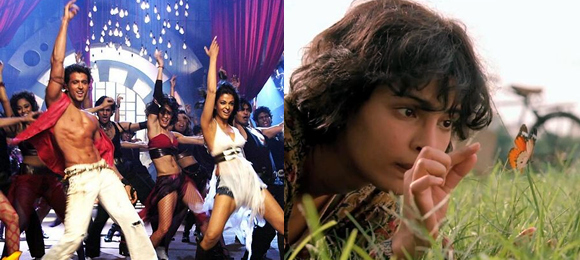 The technological advancements don't stop at the visuals. Even with music, especially in Bollywood, there's a huge emphasis on style of music, as well as instruments (or lack thereof) used.
Even in mainstream music, the emphasis seems to have moved away from using traditional instruments and leans more towards using artificial sounds and more 'western' styles.
Take a wonderful classic, 'Kabhie Kabhie Mere Dil Mein', in which the song relies on classic instruments and the singer's voice rather than emphatic synth and artificial sounding instrumentals.
Not to take away from modern music, as with any art, it takes skill and talent to produce something that people can appreciate. Let's move a little more into the present; Dhoom 2's (2006) opening song.
From the first few seconds of the track, we can hear some pretty powerful electric guitar laced with some electronic-type sounds.
When the song opens up a little we hear a lot more synthetic music, which works wonders for a film like Dhoom 2, with it's hard-hitting, action-packed tone. There are films which still employ classical methods of music, Barfi! (2012), being one of them.
The song 'Aashiyan' is a lovely example of a modern piece of music that still retains some semblance of instrumentals that so many films lack today.
Pros and Cons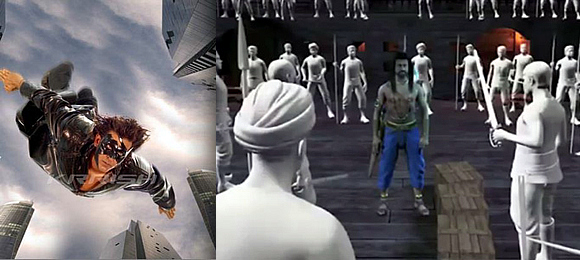 Pros
Reduced budgets
Safer than using people for stunts
Visually stunning
Using CGI has so much potential; create larger-than-life visuals without ever having to leave the studio.
Ability to re-create locations anywhere in the world, thus saving money on relocating equipment, cast and crew.
Using new technology to create music can be beneficial; can simulate classical as well as modern pieces.
Cons
Can take away credibility from a film if effects are over the top
Music can sound too over-the-top and unauthentic if overproduced
Can detract from performances if used excessively
Time consuming; can take longer to recreate a full scene in CGI as opposed to shooting, which can potentially take a matter of hours.
It's clear that using technology to create films greatly aids the filmmaking process, though that's not to take away from traditional methods that are still employed all over Bollywood.
It's difficult to say where we'll be in another 20 years, but with the way technology is progressing; we can only imagine the things we're going to see and hear.