Shaun Blokker, better known as celebrity fitness trainer Shaun T, talks about his college days at the Rowan University Rec Center in Glassboro, NJ 7/20/16. (Amanda Marzullo | NJ Advance Media for NJ.com)
The sun-baked stretch of Camden's North 23rd Street outside Calvary Bible Tabernacle is mostly empty, save for a musclebound man in a red polo shirt. An older man with a salt-and-pepper beard approaches, flagging him down.
"Is your name Shaun?" he shouts, moving closer.
"Mr. Shaun! Mr. Shaun!" he yelps, introducing himself as "Bunny." Dropping low to the sidewalk, he busts out a few breakdancing moves outside the church gates. His effort is earnest, if a bit rusty, but the man in the polo shirt can't stop smiling. He extends an arm to give the man a hug.
"Hallelujah!" Bunny howls, dancing down the street. "I will never forget this."
The Shaun in question is Shaun T, the fitness celebrity who made his name off late-night TV infomercials for funky dance workouts and intensive plyometric drills. Since Beachbody released his first DVD, "Hip Hop Abs," in 2007, the company says he has sold more than 8 million workout videos, including the strenuous yet popular "Insanity" program.
"This is my life," Shaun says. "People aren't nervous in my space." And it's not just in Camden, his hometown. Wherever he goes, he gets recognized at least a few times a day.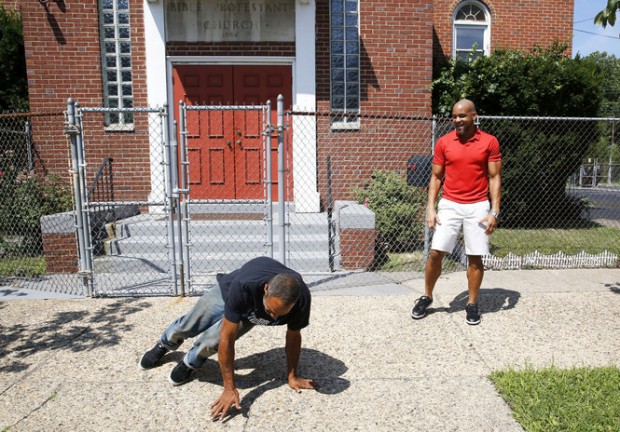 These aren't just your garden-variety celebrity selfie encounters, either. To wit, just a moment later, Bunny the breakdancer returns to ask Shaun, 38, for help getting into in a drug addiction program. Shaun's representative takes down contact information for the man's family.
"The feeling that you felt in that moment, you have to live in that," Shaun tells Bunny, talking about his breakdance routine. "You know what I'm saying? Trust and believe. Never give up."
For nearly a decade now, Shaun T has been telling those embarking on home workouts the same thing — "trust and believe." But long before he was conquering living rooms across the country with his positive-thinking mantra and glistening torso, Shaun T was a teen survivor of sexual assault who considered Calvary Bible Tabernacle his second home. Raised on food stamps, he wore socks with holes in them and didn't give up on his shoes until the soles were "talking."
"It builds so much character," he says of his tumultuous upbringing. Now, with a slew of workout videos to his name, he has enough money to live on a golf course in Arizona. Still, Shaun T says he gets his high from raising people up — telling them to "dig deeper," whether that means helping someone in a wheelchair dance or driving the daily routine that helps someone lose half their bodyweight.
"Money does not drive me," he says. "It just doesn't."