In a strange turnout of things, Saif Ali Khan emerged victorious in the Best Dressed IIFA 2017 green carpet poll beating Shahid Kapoor by a margin of 10.4%
Many strange things happen in this world and this certainly looks like one of those! The dapper Nawab of Pataudi beat the suave Shahid Kapoor in the best-dressed celeb poll from the green carpet style diaries of IIFA 2017. While Saif Ali Khan chose to go dapper with a classic yet contemporary suit, Shahid Kapoor played it up with a quirky suit and dazzled everyone with his refined sense of style. While Saif's look in question was from IIFA Rocks, Shahid had ensured attention with two stunning style moves. Nonetheless, Saif's one green carpet look beat Shahid's two looks fair and square garnering a vote of 44.13% over Shahid's 33.73% votes.
Saif Ali Khan is royal and debonair, he has been up and about immortalising some classic looks that range from dapper bandhgalas to comfortable kurtas. Also, he has pulled off some quirks that have only upped his style quotient and even taken some risks like sporting a pair of Converse with kurtas and glasses. On the other hand, Shahid Kapoor has consistently modelled himself into a contemporary fashion aware man with a penchant to up his looks with an undercut hairstyle, a trimmed beard and an enviable chiselled body making the girls compulsively crush over him. Shahid Kapoor's a self-confessed brand freak and relies on making understated style statements with black, grey, navy and quirky styles. Here's a quick style recap of Saif's dominant style game from IIFA 2017.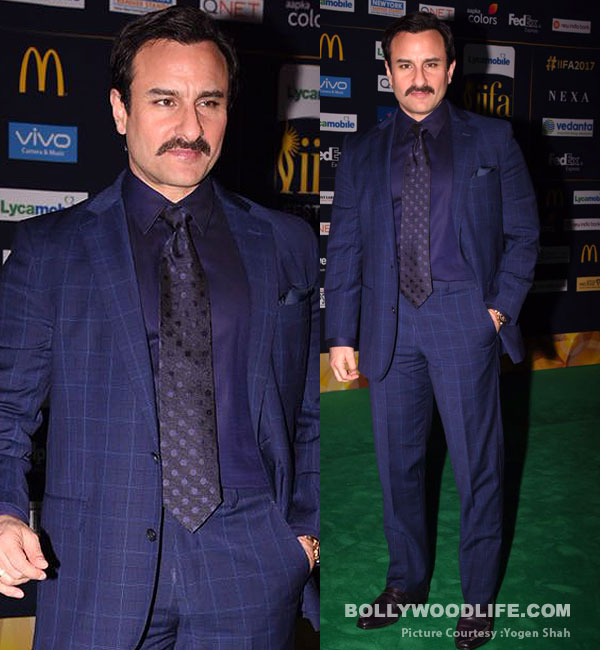 Styled by fashion designer and celebrity stylist Kunal Rawal, Saif Ali Khan was up and about redefining and owning the terms, debonair and dashing with a navy coloured grid checkered Brooks Brothers suit teamed with a Tom Ford tie and a Hugo Boss shirt. Sporting a moustache and a clean shaven look, Saif excelled at donning blue over blueGrind prints are tricky to pull off but are a minimalist lover's best friend as offer a sartorial but modern low key look. A refreshing change of styles, Saif Ali Khan certainly owned the green carpet drama with his subdued charm and a monochromatic sense of style play shoving even the best-dressed tinsel town ladies and other dapper men to the curb.