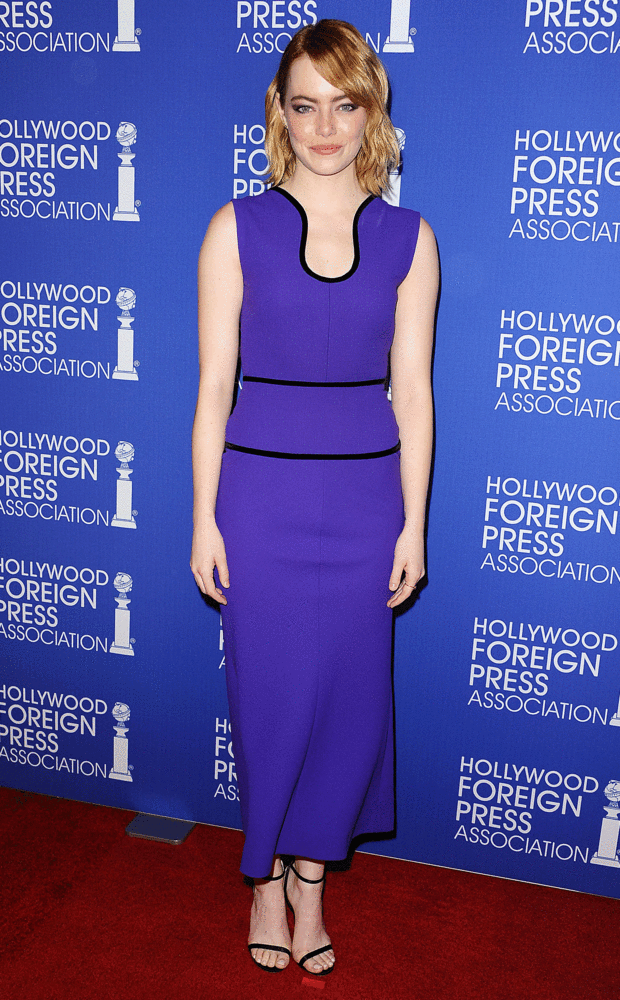 Emma Stone's purple dress for the Hollywood Foreign Press Association's Grants Banquet on Aug. 4 featured extremely sexy details in the back.
We're hooked and we can't stop staring! Emma Stone attended the Hollywood Foreign Press Association's Grants Banquet in Beverly Hills on Thursday, August 4, wearing quite the buttoned-up look — or so we thought.
The La La Land actress, 27, worked her lithe frame in a violet, crisply tailored Roland Mouret dress with black piping and a slightly flared hemline. She accessorized the look with minimalistic ankle-strap sandals and barely there baubles.
While those details would have made it a perfectly lovely daytime look all by itself, there was a drool-worthy accent on the back that upped the ante on the whole look: a long black-and-white lace panel with a honeycomb outline. Just as sexy, a top-to-bottom zipper ran through the middle, ending above a slit.
Underplaying the steaminess of the design, the Oscar-nominated actress, who returned to her signature scarlet tresses in June after experimenting with both platinum blonde and a deep brunette, modeled casually tousled waves parted to one side. She also rocked a complementary purple smoky eye.