Katrina Kaif entered the Bollywood scene as a human version of the Barbie doll who could speak broken Hindi with a heavy British accent. Obviously, like all things exotic, we loved her. She had a certain charm that was unique to her. No matter how hard others tried, it was difficult to replicate how cute she was. But after a while novelty wears off, and all that remains is how hard you can work to create a niche for yourself in an industry that is constantly on the lookout for a fresh face to fawn over. Realising this, Katrina, who was a quintessential outsider, took it upon herself to give the audience more than one reason to love her.
Her dedication and sheer hardwork helped her not only bag good projects but also shine in all of them. Like any other top actress of her league, she has worked with all the three Khans. She has worked in some of most highest-grossing films that Bollywood has churned out in the past few years. So, the obvious question was what next. While her contemporaries are charting the choppy waters, finding what is it that they do best, Kat seems to have found her calling. And it is action. But if you are wondering as to what are we talking about, let us explain.
Katrina has always played to her strengths. She has honed herself as an amazing dancer and it is difficult for most to match steps with her. She has an inherent sense of grace and poise that helps her look beautiful when she dances. With songs like Sheila Ki Jawaani and Chikni Chameli, she has cemented her place as a great dancer in an industry that loves tagging people. And now, she is exploring the action arena because just like dance, she has always been appreciated when she was seen kicking butt. So be it gun-slinging or delivering flying kicks – Kat is doing her best to channel the inner martial art expert. In the just-released trailer of Tiger Zinda Hai, Zoya is seen fighting it out for peace and dare we say, she has never looked better. Dressed simply in a jeans and tee, Zoya beats the baddies to a pulp, making us glad that along with Tiger, even Zoya zinda hai. In fact, we are so blown away by her action avatar, that we had a sense of deja-vu of having seen similar stuff and upon a little thinking, we conclude that Kat is reminiscent of Hollywood hottie, Angelina Jolie's action play in films like Lara Croft: Tomb Raider, Salt and Mr And Mrs Smith. Not able to draw parallels? Here, let these pictures help you…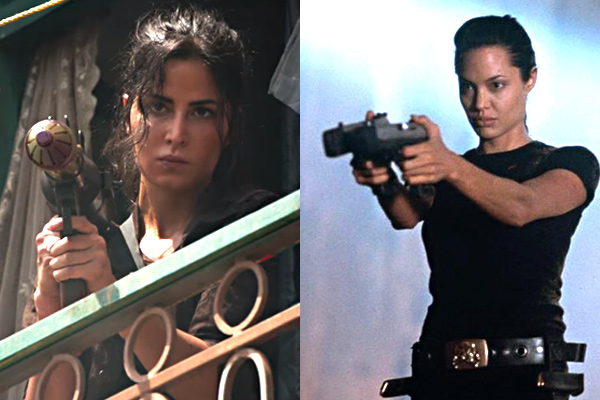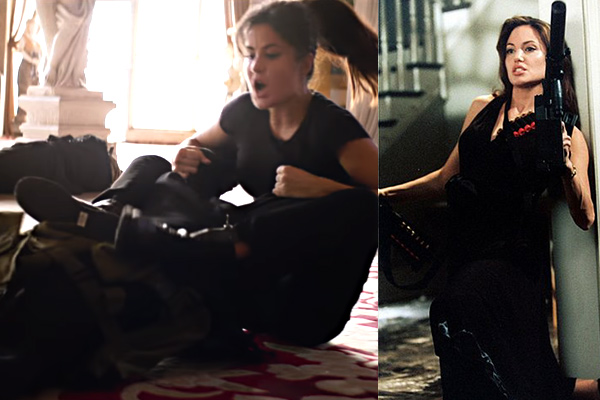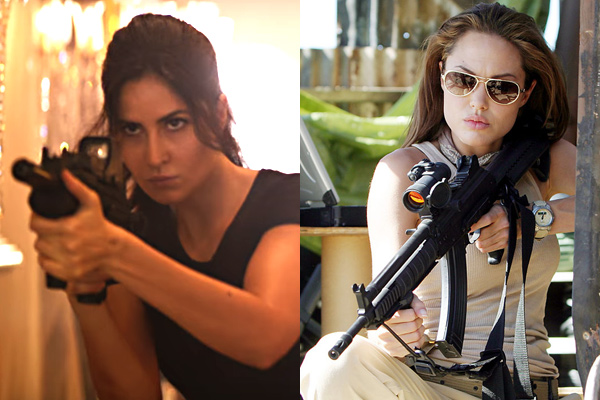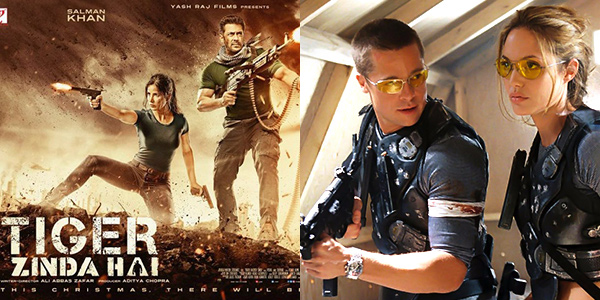 If you notice closely, both Angelina and Katrina look like a dream when delivering those punches or toting that gun. They have sharp features and swift movements that enables them to look believable while performing stunts for the cameras. Additionally, both actresses are as fit as a fiddle and that certainly helps them get into those unforgiving body suits, making their characters look like someone you won't want to cross. If you ask us, we want Katrina should next choose a script that does justice to all the action chops that she has been learning on the sets of films like Phantom, Ek Tha Tiger and Tiger Zinda Hai. What do you think?