Here's wishing the one and only Thalaiva aka Rajinikanth, Happy Birthday!
This actor is worshipped across the world, not just for his superstar persona but for the person he is when the cameras aren't rolling. When it comes to this actor, he is celebrated more for his off screen personality. He is humility personified and presents himself as he is before his fans. His larger-than-life screen avatar is left far behind when he steps into the real world. And that rare quality sets him apart. If you haven't guessed already, we are talking about the one and only Thalaiva aka Rajinikanth! Today on his 67 th birthday, apart form celebrating the phenomenon he is and will always be, we want to point out to another Rajini-ism:
If you haven't noticed already in every industry including Bollywood, each actor holds Thalaiva in the highest regard. He is respected and revered by all actors. In fact, even the biggest superstars of Bollywood bow down willingly before him and welcome him with open arms. They acknowledge his superstar aura openly. On Rajinikanth's arrival, their stardom is secondary. Here are some pics to give you a a clear picture of what we are talking about…
Shah Rukh Khan may be the King Khan of Bollywood but that fact is forgotten when he meets the Thalaiva! Out comes the humble gesture that is only synonymous to this superstar! He is that actor who doesn't demand respect but is given all of it, unequivocally. Besides, have you ever seen King Khan do this before? Apart from that, check out Rajinikanth's simple avatar – a far cry from his rockstar on screen persona. But he manages to carry this simple look with such swag.
Last year, the first look launch of 2.0 was held in Mumbai. The cast and crew were present at the event – Rajinikanth, Akshay Kumar, Shankar, AR Rahman and Amy Jackson. And guess who gatecrashed the event just to meet Thalaiva – Rajinikanth? Salman Khan! The superstar was very vocal about his fan moment! The pic below says it all. As usual, Rajinikanth kept it simple. Don't forget to notice the 200 watt smiles both are are exchanging.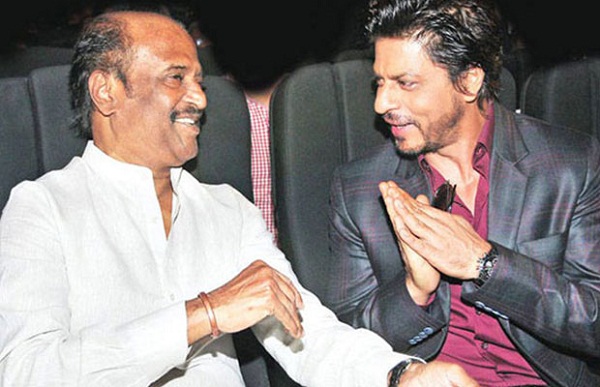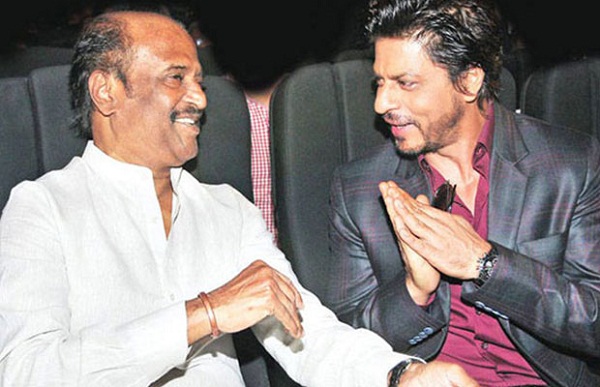 Another star who holds him in high regards is Akshay Kumar. At the 2.0 first look launch, Akshay Kumar took great care of the veteran superstar. Don't believe us? Just check this out:
Now which superstar is revered like this by other superstars? Rajinikanth seriously is one of a kind! The superstar has two releases coming up in 2018 – 2.0, a spiritual successor to Enthiran, that also stars Akshay Kumar and Amy Jackson in the lead and Kaala Karikaalan, a film helmed by Pa Ranjith where he plays a Tamil don from Mumbai slums. The film also stars Huma Qureshi. The movie has been produced by Rajinikanth's son-in-law, Dhanush.