Lloyd Stevens, the personal trainer of Bollywood actor Ranveer Singh, speaks exclusively to DESIblitz about India, body transformations and carb cycling.
Lloyd Stevens was an out of shape marine technician but, after a Herculean effort, he not only transformed his body but his career.
From quitting his desk job to become a sought-after personal trainer, Lloyd now trains one of Bollywood's most fitness conscious actors, Ranveer Singh.
As Lloyd admits: "The last six years have certainly been a whirlwind journey."
In an exclusive interview with DESIblitz, Lloyd Stevens tells about his personal fitness journey, life in India, his view on supplements and more.
How did the opportunity to go to India and train Ranveer Singh come about so shortly after qualifying as a personal trainer?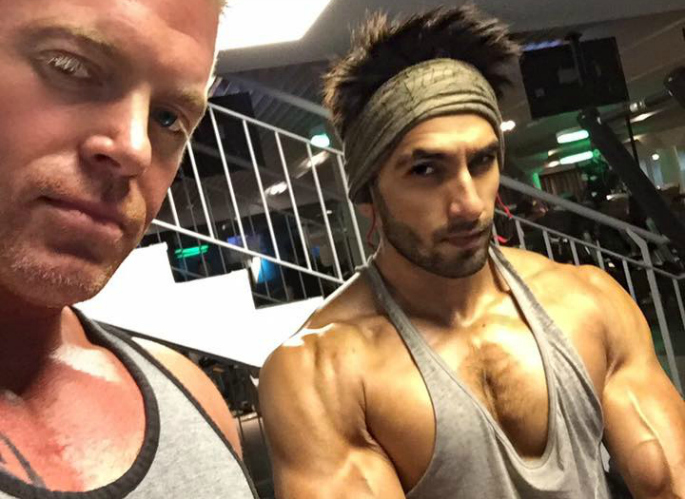 "For my initial 12-week transformation, I contacted a guy called Kris Gethin. He guided me through the process and from that I achieved some amazing results which ignited my passion for health and fitness.
"To cut a long story short, I decided to quit my corporate job as Marine Technician and become a Personal trainer.
"Soon after that, Kris contacted me and told me there was an opportunity to train a young up and coming Bollywood star, Ranveer Singh.
"Before I knew it I found myself in Mumbai helping Ranveer transform into his role as 'Ram' for Sanjay Bhansali's hit movie Ram Leela.
"Thanks to a lot of dedication and hard work, we managed to achieve the look he wanted within six weeks instead of the expected 12.
"After that I returned to London and worked with a Personal Training Gym in London called Ultimate Performance for a few years.
"Since then, Ranveer and I had kept in contact and eventually we decided it was time to team up and transform his physique once again, this time for Aditya Chopra's Befikre."
Can you tell us about working with Ranveer Singh?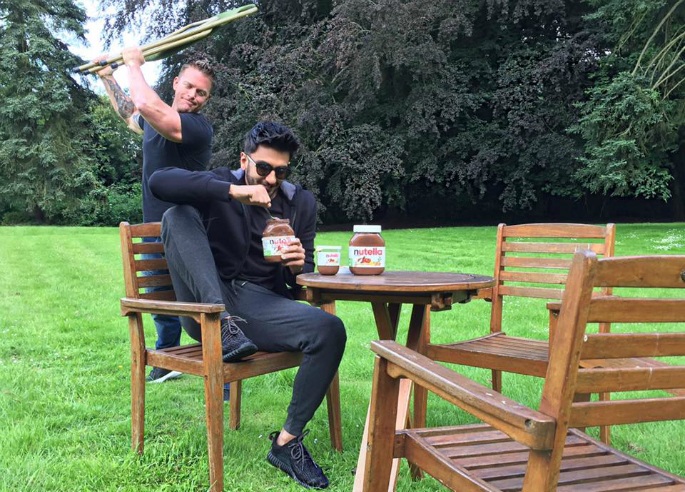 "Ranveer has very a hectic and unpredictable schedule. On some days he will be required on set by 6am, and some days it will be an all-night shoot.
"It's not unusual for production to notify us of these changes last minute, so quite often you have to be prepared to accommodate those changes and think of a solution very quickly around any potential challenges.
"Ranveer's meals are prepared and taken care of by a chef (Mohit Savargaonkar from Six Pack Meals Mumbai). I instruct Mohit of Ranveer's macro nutrient requirements and restrictions and he takes care of the rest.
"Time scales vary from film to film depending on the 'look' we are trying to achieve. Sometimes it can be as short as 3-4 weeks and sometimes we will have longer.
"Obviously health is my number one priority when it comes to training a client, so occasionally it's a case of managing expectations realistically.
"Ranveer is extremely driven and will do whatever it takes to achieve the results he needs to look like for a particular role."
Do you want to continue working in Bollywood?
"Sure absolutely! When I first got involved with Ranveer a few years ago, I was unfamiliar with Bollywood. But since then I have got to know quite a few of the movies and really enjoy the vibe surrounding the whole scene!"
An ongoing belief is that South Asians have the worst genetics for bodybuilding with many possessing the dreaded body type known as 'Skinny Fat'.
After training Ranveer, do you agree with this belief?
"No, not necessarily just South Asians. This occurs worldwide. I think its just simply a case of lack of education and misunderstanding when it comes to nutrition and exercise.
"However, I think over the past few years, I've noticed there is a definite fitness craze trending in India at the moment. This could be due to the fact that many Bollywood actors and actresses are setting the example, but this is just my opinion."
"What I do think is there is definitely an issue around the world whereby 'fast-food' or 'junk-food' is becoming more easily and readily available anytime and anywhere."
Was it difficult transitioning into life in India? Did you find it easy to get hold of macro friendly foods?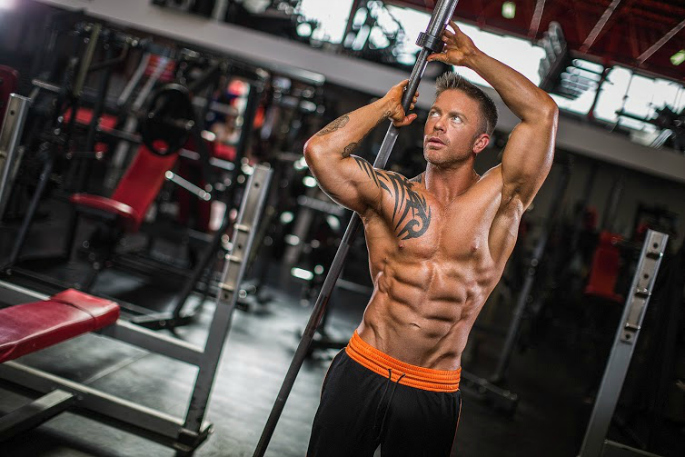 "It actually wasn't too bad at all for me. I grew up in a very rural part of Zimbabwe in Africa and have done a lot of travelling, so I think that made things easier for me.
"Getting hold of the right foods wasn't difficult at all. Sure there isn't as much choice as we have in the UK, but there was certainly an adequate amount of macro friendly foods available."
What are the gyms like in India?

"I was actually really impressed with the amount of gyms available in Mumbai and most of them had all the equipment we needed.
"Perhaps this could be related to what I mentioned earlier with the growing fitness craze in India over the past few years."
Do you still stick to the routine that got you into such good shape in 12 weeks or have you experimented with your workout plan since?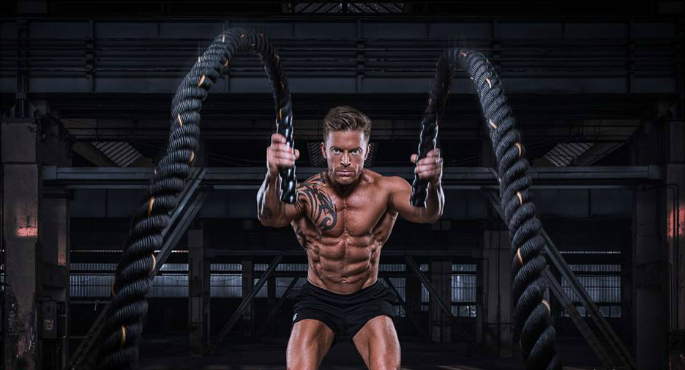 "I stick to the same basic principles, but the routine changes quite often as I do like to try different methods, types of workouts and nutrition strategies to prevent any sort of plateaus. or simply to keep things interesting, and learn about new techniques that could work better for me or my clients."
Do you feel there is an optimal way of training – Bodybuilding, Calisthenics, Powerlifting, Strongman or even CrossFit?
"It honestly depends on a person's particular goals or what they enjoy doing exercise-wise.
"In my opinion there is no 'one optimal way' of achieving great results. You or your coach have to find what works for you towards your particular goals.
"Secondly, that process has to be enjoyable, otherwise you will struggle to stick to it, fitness is about making you feel better about yourself not worse."
Do you believe supplements are a necessity when it comes to getting into shape?

"Again it depends, I'm not a huge fan of taking loads of supplements.
"I believe people should take the bare minimum such as your vitamins and minerals. Because these days our food has been manipulated in a way to grow faster, more efficiently and stay fresh for longer.
"During that process, it tends to lose a lot of nutrient value, so in today's modern world we need to 'supplement' those nutrients we are missing out on.
"Probiotics, digestive enzymes and fish oils are also supplements I highly recommend for general health."
How often do you indulge in a cheat meal? And what is your favourite cheat food?

"If I'm preparing for a photoshoot or a particular occasion that I need to be in great shape for, I won't indulge in any cheat meals at all during that process.
"However, if I'm just maintaining my current physique, my girlfriend and I will treat ourselves to a cheat meal during the weekend.
"My favourite cheat meal would have to be a full English breakfast with pancakes and maple syrup."
Judging from your meal plan, you seem to be an advocate of carb cycling.
Does this mean you are a strong believer in clean bulking as opposed to dirty bulking?

"Yes, I'm not an advocate of dirty bulking at all. In my opinion, it's pretty simple. Food is fuel and if you want your body to function optimally why would you fill it with a contaminated fuel source.
"It would be the equivalent of filling a Formula 1 car with contaminated fuel and expecting it to function as well as the other cars running on clean race fuel."
Many of those in the comment section on your Daily Mail article question whether your before and after photos were actually taken 12 weeks apart.
What do you say to these 'haters'?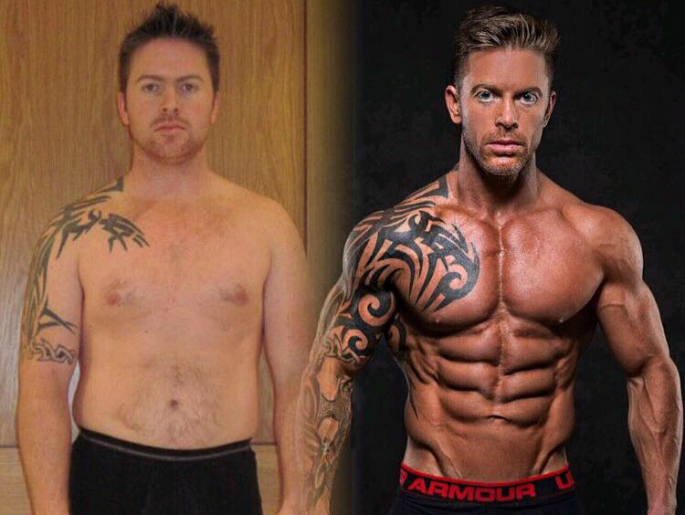 "I think the Daily Mail article was presented or written in a confusing way, because they used my first 12 Week Transformation before and after pictures alongside some pictures that were taken not too long ago during a photoshoot.
"So there is a huge difference between back then and now because I have been working on my physique since then for approximately 5-6 years, making it look like I had achieved my current physical condition in 12 weeks which is not the case at all.
"However, even after I have explained that, people still don't believe what I have achieved both during that first 12 weeks and up until now is possible.
"A very common reason is because my tattoo is different and has been modified over the years. They believe it's a different person, haha!
"I used to take the 'haters' comments personally, but I have learnt to instead accept it as a form of flattery and instead use it to fuel my motivation to go even further.
"I guess it could be that some people are uneducated as what can be achieved with the human body if you stay committed and focused towards your goals."
It seems like a bit of a whirlwind journey from a slightly out of shape desk jockey to personal trainer to the stars.
But Lloyd Stevens is the perfect example of how determination, dedication and a carefully planned fitness regime can transform your life for the better.