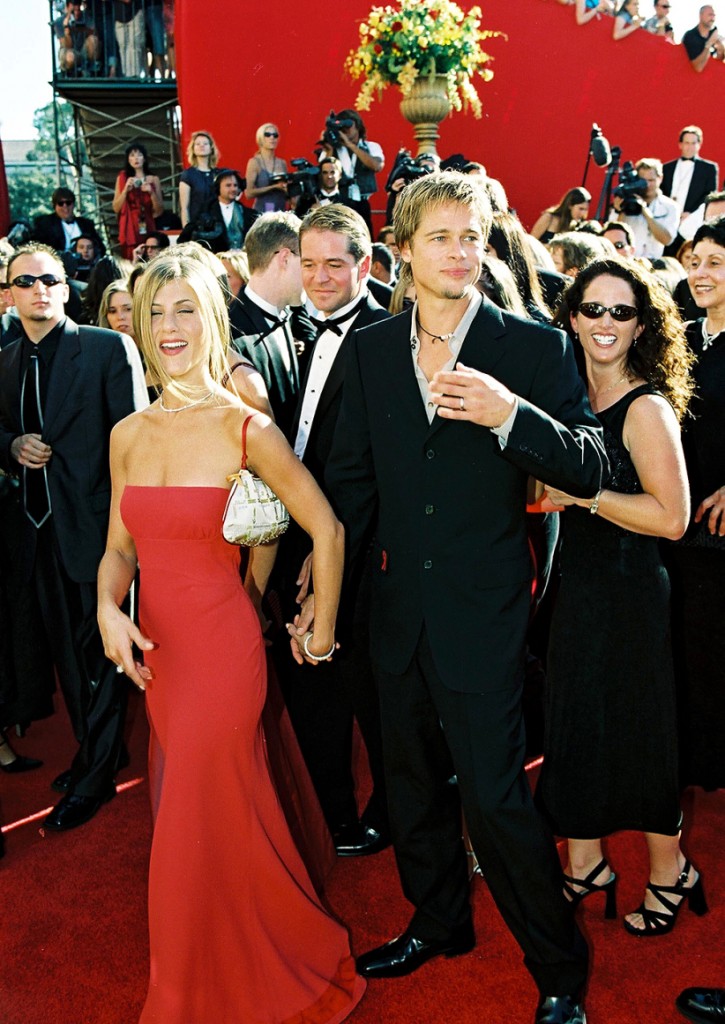 Brad Pitt and Jennifer Aniston will always be Hollywood's favorite couple. And because they're both newly single, we put together a list of our favorite moments of them before their 2005 split!
Ever since Jennifer Aniston, 49, announced her split from husband Justin Theroux, 46, fans have been dying to know if she will rekindle things with her ex-husband Brad Pitt, 54 (who recently split from wife Angelina Jolie). Turns out, fans aren't the only ones dying for a reunion as George Clooney, 56, has reportedly set up late-night hangouts for the estranged pair. And although we aren't certain if these hangouts are romantic, we can't help but take a trip down memory lane to Jen and Brad's happier days. Looking back, it's hard to not understand the obsession. I mean, the actors looked incredible together.
Our favorite moments of course, are Jennifer and Brad's many red carpet appearances. Following their 2000 wedding in Malibu, the newlyweds hit up the 52nd Annual Emmy Awards in Los Angeles. They couldn't take their eyes or hands off each other, and we still can't get over it. Jennifer looked stunning in a simple red gown, while Brad looked extra dapper in a black suit. Don't you miss them together?! In addition to looking good together, they also slayed together. At the 2002 Annual Golden Globes, Brad rocked a fitted black suit, and Jennifer matched his look with a similar tailored ensemble. They were photographed lovingly gazing in each other eyes, and we just knew they were in it for the long haul!
They also had some pretty adorable moments off the red carpet. In 2001, the famous couple was spotted enjoying some time together at Milan's Men's Fashion Week. And instead of rocking the same look, they opted for similar color schemes. Brad wore a tan blazer and Jen flaunted a chic taupe top. Nevertheless, we certainly wouldn't mind seeing them together again. Keep up the good work, George!