In a poll conducted by BollywoodLife, Priyanka Chopra and Katrina Kaif have beat Deepika Padukone in the thigh high slit game! Check out results.
You've gotta give credit to Deepika Padukone for bringing back the thigh high slit fever. But the one to take away the entire cake and even eat it are Priyanka Chorpa and Katrina Kaif. With a startling high percent difference, Priyanka and Katrina both have DEFEATED Deepika in the race to best thigh high slit outing! Well, let's start from the top. Ever since she walked in for IIFA 2016's Press Conference held in Madrid this year, her favourite has become the same. While we were happy that after a lot of black, we finally saw some colour and spunk in her outfit, little did we know that we'd have to get used to it.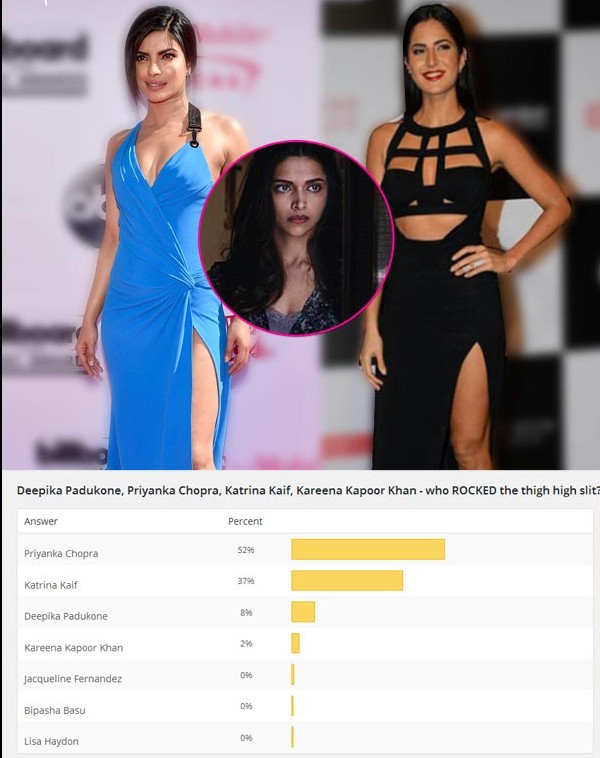 Soon at the red carpet's of MTV EMAs, the actress once again flaunted her sexy legs. Since then, she showed off how just one leg jutting out of a flowy fabric can do wonders. Yes, we were slain by all her looks. After having seen her Monisha Jaisingh olive green thigh high slit skirt itself, we decided we had to bring together all the ladies of B-town and get them fighting for the ultimate sexy legs crown!
Priyanka scored about 52 percent while Katrina's points earned upto 32 percent. Post them came Deepika's scores which came upto 8 percent. Ouch! Looks like fans have said it out loud and clear who they think rocks the red carpet in thigh high slit. What's funny is the fact that Padukone has the highest fan following on social media. But that advantage too didn't help her ace this poll. We of course, think all the ladies in this poll are hot and can pull off the thigh high slit which has famously been brought back to limelight by the xXx: Return of Xander Cage actress.
Our list consisted of Priyanka Chopra, Katrina Kaif, Kareena Kapoor Khan, Jacqueline Fernandez, Bipasha Basu and Lisa Haydon. We had to pick the best ones and in the recent outings these desi divas did turn heads with their toned sultry legs. We in fact asked you folks to vote for who you think pulled off the thigh high slit look with sheer precision. With the kind of trend Padukone started, we thought perhaps it would be her to take him the golden trophy. However, we were in for a big shock as we found out that not DP but desi gal, PeeCee and Barbie babe Kat were the highest scorers in this poll. The others in the list barely made it while Bebo scored some points with 2 percent, the rest didn't even qualify to be rated by the system!