How we love seeing ex-lovers bonding on Facebook, no?

So yesterday we got to see Salman Khan putting up this really sweet message for Katrina Kaif on Facebook. He not only wished her well on her 33rd birthday but even welcomed her on social media by saying, "Katrina Kaif welcome to Facebook and wishing you a very Happy Birthday." Indeed, it was one heart-winning moment for all Salman and Katrina fans. However, little did we expect Katrina too will actually take out time to personally reply back to Salman's this message. Yes she's done it!
We scrolled down the comments on Salman's Facebook post and look, Katrina has replied saying, "Thank You Sultan." Can you believe it?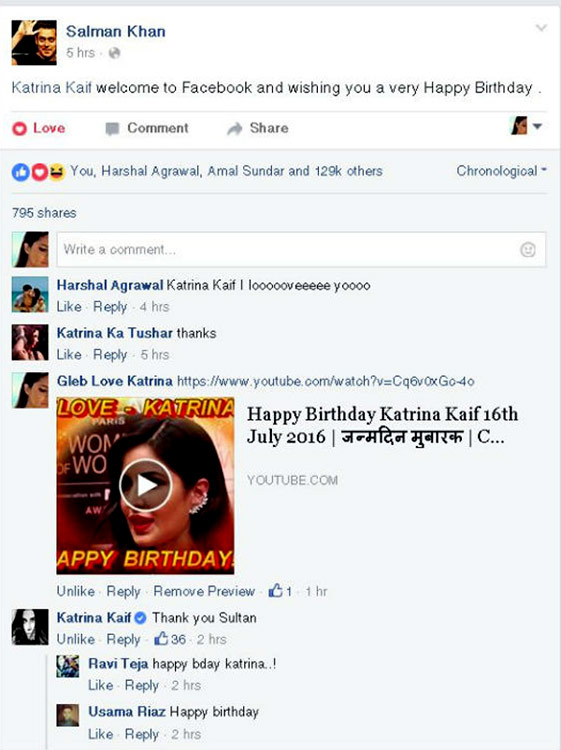 Looks like she still has the Sultan hangover, and why wouldn't she? After all, she attended two back to back screenings for the love of Sultan. But anyway, the fact that we're getting to see Katrina and Salman bonding on Facebook is making our hearts so damn happy. I mean, isn't it quite a positive sign?
We wouldn't be surprised if we get to see more exchange of posts between Katrina and Salman. In fact, what do you think should be their next message? Oh wait, how about Salman promoting Katrina's Baar Baar Dekho – like you know how he does for Shah Rukh on Twitter by sharing his movie poster etc? He can might as well launch the first promo of Baar Baar Dekho, whenever that releases, don't you think? Oh we're already loving Katrina's presence on Facebook. How about you guys? Tell us in the comments below and we'll be back with more such updates, right here only on BollywoodLife. Stay tuned.