Hrithik Roshan, I love you… that's it! I said it….

Happy Birthday Hrithik Roshan. It will be a crime to begin this article in any other way than this. I am sure there are scores of others who feel deep love for you. I agree I am one of the several wide-eyed fans of yours. I was told to put my love for you in words. Doing that is as difficult as it is easy to fall in love with you, I would choose the latter anyday! I have even been accused of fancying you for your looks. Honestly, I will be lying if I say that's not one of the reasons. For a 17 year old girl, hailing from a town which hardly anyone knows of, Hrithik Roshan was what dreams were made of in 2000. Tall, handsome, macho, beautiful, lovely, sweet… I could go on and on. It will be foolish to say looks don't matter. If first impression is still the best impression, looks will always be of paramount importance. Also, you once told the media after you were crowned the owner of the third handsome face, "It's a compliment, not an achievement" I doubt any actor has ever said that… which is the biggest truth. I too was attracted to you because of your handsomeness but that's not why I remained your fan all this while. I will get to that a bit later. First, let me tell you how I fell for you without even being aware of it.
Truth be told when I first saw you, I had dismissed you as just another star kid… No offence!
Yes.. I did and I am not even guilty about it. I remember the first time my eyes fell upon you. It was the song Chand sitare from Kaho Naa…Pyaar Hai which was being played at one of the film song programs that Doordarshan aired then. I even clearly remember the scene when my eyes fell upon you. The scene where you instruct Ameesha Patel to blow the candles decorated around her birthday cake. I wasn't instantly taken by you. Debuts of star kids have always been a common thing in Bollywood. But then the film released on January 14… I have been in love with you eversince. 17 years and counting…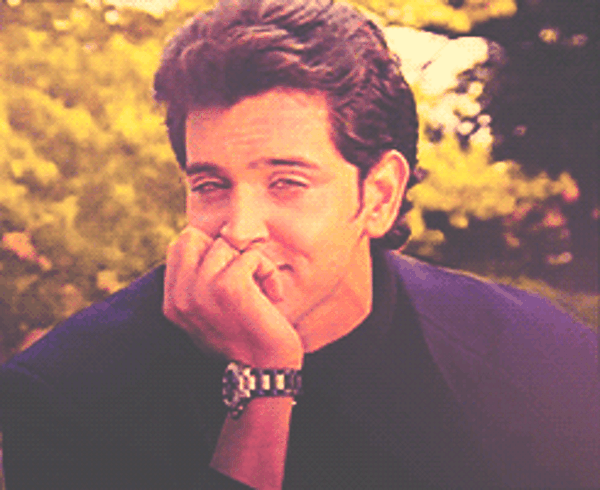 Now coming to why my love for you goes beyond your looks. Hrithik Roshan, you are a lot of things rolled into one. I was so secure in my love for you that when you decided to get married the same year of your debut, I wasn't heartbroken at all (Why should you care? You shouldn't but I will assert it anyway). That's when I realised my love for you runs deeper. For an actor who became an overnight sensation because of a romantic film went on to do two films where his characters are starkly opposite. Fiza had you as a wayward teenager whereas in Mission Kashmir, you were a terrorist. I knew I have found the actor I would love to call mine forever.
I love you as a human being, as an actor, a looker and above all, the way you conduct yourself. I won't go back in time but will cite a recent example. Hrithik, I have never seen someone handle a tense situation in such a dignified way. When Kangana Ranaut (sorry for bringing it up) was busy pulling you down, you maintained a stoic silence and spoke only when it went out of hand. Even when you did so, you did not at any time try to degrade the woman or call names.
Every time someone gets back at another, abuses and name calling are what the person resorts to. But you handled the interview regarding the matter so well. Never did you go for character assassination, rather you just presented your side of the story. If that doesn't make you a gentleman, nothing does because in today's world, men take extra pride in calling every woman with choicest expletives. If that's not enough, the way you bond with your ex-wife Susanne Khan deserves a huge round of applause.
One of the perks of being a journalist is I get to meet stars I have been fawning over. So I met HR and lived to tell the tale… that does say a lot because this man can make you go dizzy with his charm, boyish looks, impressive eyes, impeccable manners and a soft spoken nature. Of course I was tongue tied because I am infamous for being awkward around anyone I fancy… so Hrithik was no different. But next time I meet HR, I will definitely say Kaho Naa… Pyaar Hai!