Angelina Jolie, 42, proved she has nothing but love for actress Alicia Vikander, 29, who just reprised her role as video game heroine Lara Croft in the new Tomb Raider movie. The film has already raked in 23.5 million dollars after premiering in theaters on March 16, and Angie made sure to hit the cinema on the film's opening weekend. With at least four of her children in tow on March 18, the star treated her youngsters to the remake of the film that helped make their mom famous! Angie was actually the first actress to take on the iconic role of Lara in 2001, and we love that she wanted to see Alicia's take on the character along with her kids.
Angie was photographed going to see Tomb Raider with her 9-year-old twins Knox and Vivienne, and two daughters Shiloh, 11, and Zahara, 13. Although her cinema trip was low-key, Angie looked uber stylish dressed in head-to-toe black. In fact, she projected a sense of off-duty elegance and mystery! The actress rocked a sophisticated wool wrap coat paired with suede knee-high boots and oversized shades. Meanwhile, her and Brad Pitt's, 54, kids sported more casual looks, with Zahara and Shiloh both wearing zip-up hoodies, and Knox sporting a printed bomber jacket. The family seemed to be in high spirits too, as they walked to the theater — talk about a fun weekend activity!
Although Angie had already achieved notoriety with her award-winning performances in Gia and Girl, Interrupted, before she took on the role of Lara Croft, Tomb Raider is what arguably established her as a leading Hollywood star. And despite having big shoes to fill, Alicia has already been praised for her portrayal of Lara. "I've been dreaming to be apart of a big action adventure film since I was a kid. I've wanted to push myself and in this film I really get to do that," Alicia shared during an interview with the film's distribution company Warner Bros. "Our story is very much an origin story… this film is about her becoming the hero that we know her to be."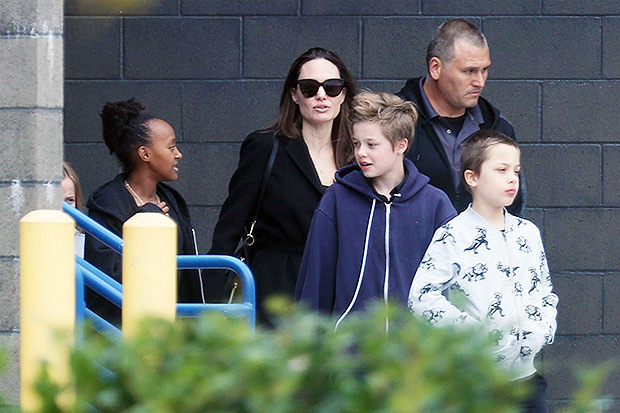 We can only imagine Alicia would be thrilled to hear Angie took her kids to see her new movie in theaters. After all, Alicia has revealed that Angie is someone she looks up to. "Angelina is a woman I would love to meet… she made an icon out of that character. She's quite an incredible woman," she gushed to E! News recently.