Varun Dhawan versus Sidharth Malhotra – who is the bigger star? Read our full box office analysis!
Varun Dhawan has been having a dream run at the box office. Right from Student Of The Year (2012) to Judwaa 2 (2017), the actor has delivered nine back-to-back hits. Nine films and nearly 5 years down the line and still, Varun is hungry for more success. With Judwaa 2, he not only helped give a major boost to the dwindling box office, but also managed to deliver his biggest hits till date. The film has already broken several records, but with it still going so strong at the box office, don't be surprised if it creates a few more such records.
Sidharth Malhotra, who also made his debut with VD in Student Of The Year, has however had mixed fortune. While he has acted in equal number of films like Varun Dhawan, his box office run has been rather average. Though we can't discount the fact that he has delivered a couple of hits, but if we see the box office run of his other releases, then you will realise that most of them have either been average hits or duds at the ticket window. A lot of people are pitting these two gen next stars against one another after five years of their Bollywood debut. And with a lot of valid comparisons being drawn between the two, with regards to the choice of films, their box office success and acting capabilities, we decided to analyse their box office track record and understand as to who is the bigger star at the ticket window in terms of box office performance and popularity. Here's our take on the two stars…
# Highest Opening weekend of all time
In today's day and age, most often or not, the opening that a film receives, decides it's outcome at the box office. The thought behind the concept is simple. Not only is the buzz the highest over the first weekend, but also the fact that more the people see the movie, better is the word of mouth publicity and more likely is it to sustain post the weekend. After the first Monday, the collections generally fall drastically and only if you have strong content does the film perform well during the second weekend.
But who has the highest opening weekend collections between these two? Well, it was very close but looks like Varun Dhawan has edged out Sidharth Malhotra in this one. Looking at the first weekend collections of their Solo hero projects, you will realise that Varun Dhawan's Judwaa 2 is the highest opening weekend grossers for the star, with a collection of Rs 59.25 crore. On the other hand, Sidharth Malhotra's Ek Villain is his highest first weekend grossers, with a collection of Rs 50.70 crore. Quite clearly, Varun has taken the initial lead.
# Number of Rs 100 crore films
With the humongous success of Baahubali 2: The Conclusion and Dangal, the Rs 100 crore club doesn't seem that elite anymore, especially for the trade. However, if you see this year, several top films like Tubelight and Jab Harry Met Sejal have struggled to even touch the Rs 100 crore mark. In fact, for gen-next stars like Varun and Sidharth, the number of Rs 100 crore films that they have in their kitty still matter as they have quite a few and this factor tells a producer that you are capable of a decent box office return.
If you look at Varun's films, the actor has managed to enter the Rs 100 crore club thrice. First with ABCD – Any Body Can Dance 2, then with Badrinath Ki Dulhania and once again now, with Judwaa 2. However, Sidharth Malhotra has just been able to achieve it once with Ek Villain.
# Number of Flops
A flop not only affects an actor's run at the box office and the potential of his future films, but also the industry. While we have seen several stars falter at the box office, Varun Dhawan has delivered consistent hits. With Judwaa 2, he continued his phenomenal run at the box office. In five years till dates, he has not even had one flop, which is surprising to say the least considering that Shah Rukh Khan (Jab Harry Met Sejal) and Salman Khan (Tubelight) have also faltered recently at the box office. Varun's choice of scripts and his idea of playing to the galleries has helped him stupendously.
Meanwhile, Sidharth Malhotra has delivered two back-to-back flops. After an average run at the box office with Kapoor & Sons, a lot was expected from Baar Baar Dekho and A Gentleman. But both of them were outrightly rejected by the audience, courtesy the poor content and execution. This, in turn, gave him his first two flops of his career. So, while Varun is currently on a high, Sidharth has seen better days at the box office.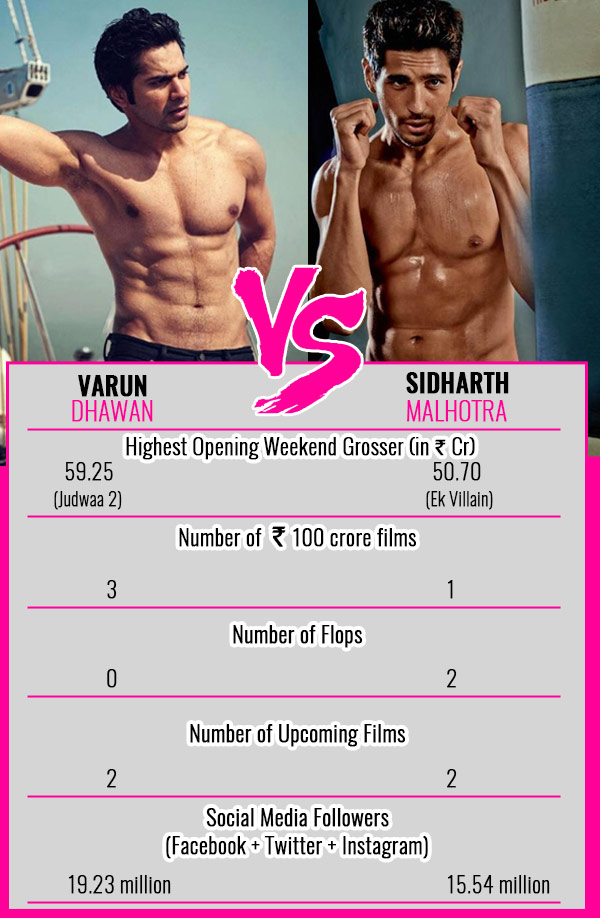 # Number of Upcoming Films
Now-a-days, an actor's fate is decided by his last release and his next hit. We have already discussed how Varun's last release (Judwaa 2) has been a hit, while Sidharth's A Gentleman was a dud. But what's next for these two? Well, both the gen-next stars have two films (officially announced) in their kitty currently. But which one has a more illustrious line-up? Well, that's for you to decide…
Varun Dhawan's next two are very different from each other. First is a dark-thriller titled October, which is to be directed by Shoojit Sircar. While the other is a romantic yet hard-hitting film in the form of Yash Raj Films' Sui Dhaaga – Made In India alongside Anushka Sharma. Both of these look interesting, don't they?
Sidharth Malhotra, on the other hand, has the Ittefaq remake with Sonakshi Sinha releasing on November 03. It's a whodunit murder mystery and the promos look really exciting. Then, he has the romamtic drama, Aiyaary alongside Rakul Preet Singh. Looks like he has an impressive line up too. But is it as good as Varun's? Share your thoughts in the comments section below!
# Social Media Followers
Apart from box office track records, an actor's popularity is also a measure of stardom. But who has a bigger following – Varun or Sidharth? Well it looks quite neck and neck, but if you check out the exact number of followers that the actors have on Facebook, Twitter and Instagram, you will realise who has a bigger fan following. Social media is really important in today's day and age and looks like Varun has taken a slight lead in this category.
Varun has 2.63 million followers on Facebook, 5.90 million followers on Twitter and 10.70 million followers on Instagram. This gives him a grand total of 19.23 million followers. In the meantime, Sidharth has 5.24 million followers on Facebook, 5.40 million followers on Twitter and 4.90 million on Instagram. This gives him a grand total of 15.54 million, which is comparitively less to Varun's number of fans.