Parineeti Chopra's promotional style file for Golmaal Again received some mixed reviews from the fashion pundits. While some of her outings were exceptionally good, others were just too blah and plain boring. Not that the actress has earned any reputation of being a fashionista but she was at least on the verge of becoming one or so we believed. Pari's style game can easily be described as a splendid melange of ethno-cool dresses, boho-chic ensembles along with few misses here and there. Though she has all the reasons to be on cloud nine these days, there are times when she just garners flak and diverts all the attention from her reel character to real one. Parineeti seriously needs to start taking fashion seriously for she can't keep offending style aficionados so frequently.
The actress was present to celebrate the success of her recent release, Golmaal Again, and to attend the interviews for the same. Opting for a black lace dress from Erdem X H&M's latest collection, Pari proved how a safest colour like black can also go wrong. Though the silhouette of the attire is boring in itself and so is the print, we blame the actress for opting for such a blah outfit. I mean, come on, you are celebrating the success of your movie which has already entered the Rs 100 crore club. So you might as well, put your best foot forward and give us another reason to adore you. But unfortunately she doesn't share our views and hence the choice.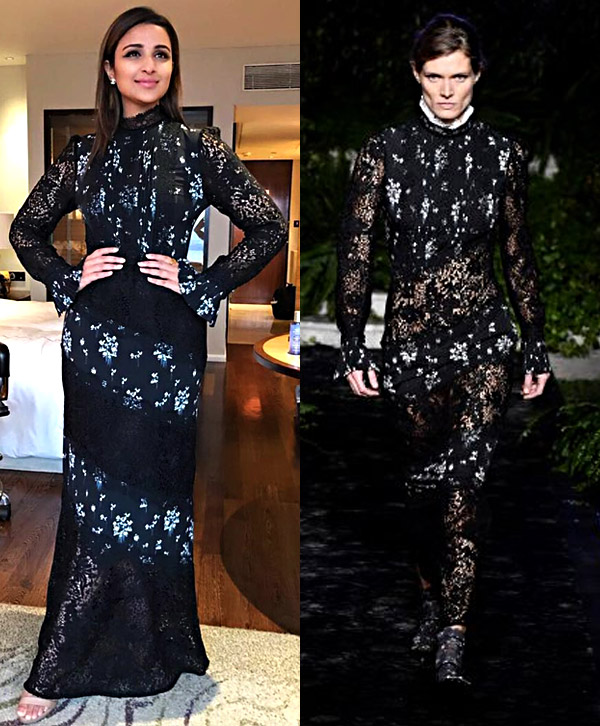 The new designer collection from H&M is bringing romance and ballgowns back to the brand, The collaboration between two fashion brands was announced back in July and its first look is finally here. The cost of Parineeti's black lace dress from this new collection is Rs 23,000 in Indian currency which isn't too much for your pockets but we we'll think twice before spending on such an attire.
While her lithe frame, affable nature and an added charm, Parineeti strides with an understated air of confidence and has channelled a floaty, dreamy demeanour. But sadly these traits are not often seen in her outings and we hope she starts working on it soon.