In an interview with DNA, Shah Rukh Khan opens up about his stardom, doing something different and the fear of losing what he has achieved in the industry. Check it out.
By every measure, Shah Rukh Khan's success story is a victory for the common man who dreams and aspires to be greater than his stead. Starting in Bollywood as an outsider and retaining his superstar status for over two decades, the stories of his life has filled several books. Now, as he turns 51 today, his words are a mirror to the man and indeed, the superstar himself. He talks about the stardom his has achieved and whether losing it is his biggest fear. Read on…
Have your priorities changed?
No, not really. I think I am working as hard as I used to in the first seven-eight months or years of my career. I am a mannered man, a stylised actor who genuinely plays to the gallery. I am all that. There's nothing wrong in that. If you become Shah Rukh by being all that, you should never have any complaints.
Has stardom ever hit you?
Negatively? No! It has hit me in the most positive way. Stardom has caressed me. I say it to everyone who tells me, 'Aapki privacy nahi hai. Aapko acha nahi lagta kabhi ki beach mein jaake pav bhaji khao ya kahi ghumne nikal jao?' Nahi! I don't want to be normal at all. I want a crowd outside my house waving out to me with sheer love. I love it more than having pav bhaji in public. I have no qualms being a superstar. I have been fortunate enough to live like a star for the last 25 years. I would like to die as a star, too. Main bahut clear hoon is maamle mein. Mujhe aur kuch nahi banna.
But as a star, is there anything you really miss doing?
I can do everything. There's nothing I cannot do. As a matter of fact, Allah's been kind. I get to do more things than other people can do. So I have missed nothing being a superstar. Also, there's a sense of being alone — which everyone has — from a director to an actor. I like being reclusive at times. But I was made to be a star. There's no other way I could have lived my life.
But have your desires changed over the years?
When you start off, you desire to have good money, you want fame, you wish to keep your family well-off. You want awards, rewards… tammanayein khatam hi nahi hoti hai. But having been here for 25 years now, you realise that the only thing you want to do is to make people smile. Somewhere down the line, it's not guilt, but I have a feeling that I've been given a lot more than I deserve. I need to return it before it ends. It's something I keep telling everyone that the best way to go would be 'Roll camera, action.. Oh shit! He's gone'. So, I want to keep on working till the last day because when I don't work, I feel tired (Smiles).
We don't have superstars anymore. Do you think that the audience has closed doors to the idea of having one?
Superstardom is more like a fourth wall and is an extremely different concept. You cannot work towards getting the stardom. Yes, there a lot of managers and management companies which help you make the right moves and say the right things, but you need to get a different kind of love to be a superstar. The kind of love that is not tangible and explainable. If that was explainable, we could create so many superstars in the industry. I do think that media tends to figure that out by labelling an actor as the next superstar. I think it takes many years of work for one to attain superstardom. It takes months for one film to reach somewhere. I don't know if Salman, Aamir and I are the last superstars and I don't think any actor can explain the phenomena of being a superstar. There is no explanation for that.
Do you ever fear losing out on your stardom?
I have an inane sense of strange confidence in my stardom. But I know what you are saying. It's reality… it can and it will happen eventually. But I have protected myself from that reality. I live in a zone which is my own created reality. Yeah, I live in a false world, but I just believe that no one can take away my stardom. (Smiles) I don't think I am worthy of all the love I get from the people. Neither do I deserve all the criticism that comes my way. They are two extremes.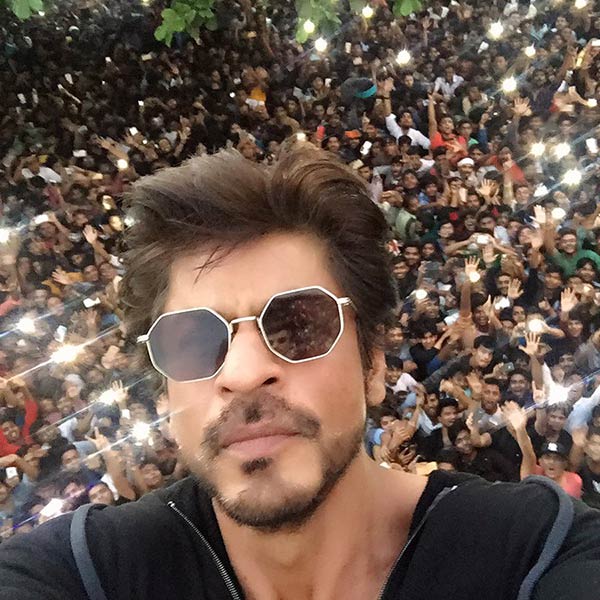 When you try doing something new, at times it doesn't work. Does that bother you?
I have no understanding of what people think of my work. All that I understand is I am an extremely selfless creative person. I want people to be happy with what I do. So if I go wrong, I go wrong. And it's never the numbers. I remember when Chak De! India released, I was in London. Everyone told me that Chak De! was going to be the biggest flop. Ditto for My Name Is Khan. They felt it wouldn't work because we didn't have a catchy song in it. That's absolutely all right. I don't work for posterity or prosperity. I work only on things I like doing and if I don't like doing something, I can't move or shift that feeling to you. If an artist is feeling it's not good enough, he will never be able to convince the audience of the same. The beauty of art is you have to go wrong more often than right to get it right eventually. When Chak De! released, I remember driving down Andheri and there was nobody there to watch the film. When I did Swades, someone in America told me, 'How can you do a film like this? It's making no noise'. Those things will keep happening. Again seven or eight years down the line, people will say why aren't you doing a Chak De! or a Swades and who knows, they might be the same people who rejected the film at first. People forget that when I started off, I did Baazigar, I did Darr. In Deewana, I was launched as 'the thing'. I see some of the other films on television and I wonder how I made it so big. (Laughs) I have the ability to make memorable choices.
Wish you a happy birthday King Khan and we just hope to see more and more of your best work! Stay tuned to this space for more gossips and latest updates.