Salman Khan is at the top of his game right now
Salman Khan is at the top of his game right now. With Tiger Zinda Hai looking promising and Race 3 already on the floors, things couldn't have been any better for the Sultan of Bollywood. Plus, since it is that time of the year when Bigg Boss is making all the noise, Salman is making the most of his stint as the host. So, it doesn't come as a surprise that he has won our Swag poll by more than 50 per cent.
So we conducted a poll asking you as to who did you think had the most swag in Bollywood. You had to choose between Salman Khan, Akshay Kumar, Ranveer Singh, Shahid Kapoor and Arjun Kapoor. And we have a verdict! Not surprisingly, Bhai has led the brigade of men with most swag. He won hands down, with 51 per cent votes. That's right, when Salman sweeps off a poll, he ensures it is by more than a half.
Akshay Kumar, came in second, with 28 per cent votes. With the kind of image that the Khiladi Kumar has, it is no wonder that after Salman, it was he who was voted as the one with the most swag. Next came Ranveer Singh with 13 per cent votes. This honestly came as a surprise for us since Ranveer, with his quirk, seems like someone with a lot of swag but unfortunately, our readers thought otherwise. He was followed by Shahid Kapoor and Arjun Kapoor with 7 per cent and 1 per cent votes respectively. Check out the results below…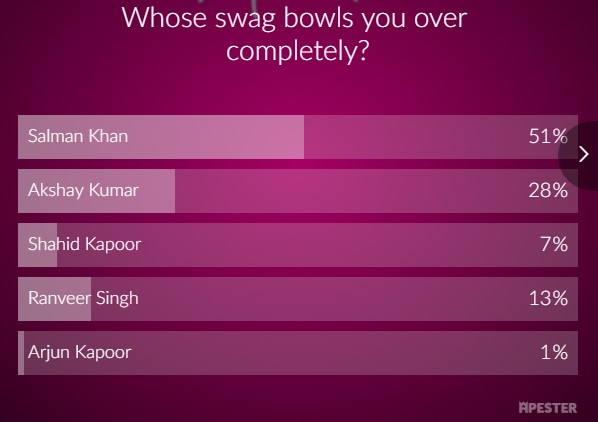 Now that we have got an unanimous decision, let's all take a minute to appreciate the awesome swag of Salman Khan. It is not everyday that you have a superstar with such style!