Was Ranbir Kapoor and Ranveer Singh's outing on Koffee With Karan season 5 criped? Well, we asked a body language expert and we were SHOCKED to find out by some of her revelations…
There's so much being talked about Ranbir Kapoor and Ranveer Singh's Koffee With Karan season 5 appearance. Deepika Padukone's ex and current coming together on Karan Johar's chat show was indeed a big deal. Karan as usual surprised us with his pick of guests, just the way he had when he roped in Sonam Kapoor and Deepika to share the couch in one of the seasons. So while KJo has managed a casting coup and we might even see some crackling chemistry on the show. The one thing we needed to know was is this for real? I mean we have seen Ranveer and Ranbir rock the dance floor at Filmfare editor Jitesh Pillai's birthday party. But hey, sharing the couch on a intrusive chat show where the host asks some very personal questions while you have a woman is common is a different deal altogether. Especially in Bollywood where exes maintain safe distance and currents share icy cold vibes. So we decided to dig a little deeper and find out from our body language expert Alicia Petrov on what was her take on Ranbir – Ranveer's Koffee outing. Here read expert comments…
#The reluctant guests:
Our expert observed that in most pictures the duo has maintained a safe distance despite being in the same frame. There is no physical contact whatsoever. And do not miss Ranbir's hands packed in his pockets. Pocketed hands hint at the person's unwillingness, mistrust and reluctance. Ranveer's lowered head indicates a desire to make it harder for others to understand what he's really thinking. And both the actors' lowered eyebrows is also a sign of annoyance or sometimes displeasure.
#Discomfort!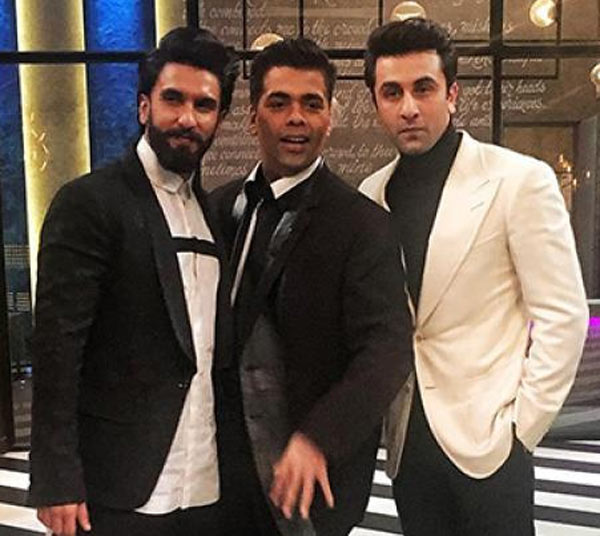 This picture screams DISCOMFORT! If you catch Ranbir and Ranveer's expression they have a serious impassive facial expression. Clearly concealing their true feelings about each other. Pursed lips suggests that the person has formed an opinion that is opposite to what is being said or done. It also hints at dissension. Also a look at Karan's overall body language in this picture one can literally witness the tension. Ranbir continues to keep his hands tucked in the pockets like in the earlier pic.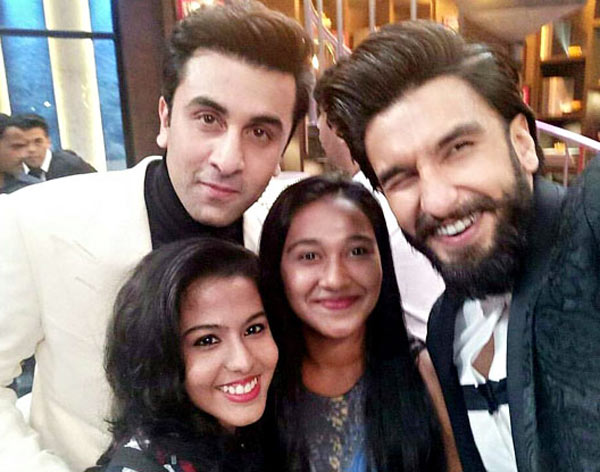 #Fan cushions
ranbir-Ranveer-Koffee-2
The two stars expressions become more relaxed and their expressions and eyes reveal this. This time Ranbir looks upwards while Ranveer's wink suggests that he's more at ease from the earlier moments. Looking upwards is generally indication of a visual thinker, someone who is making mental pictures. Also Ranveer's wink kind of takes the stress off the two stars posing together. Thank the fans who play a cushion here.
While the lady in this photograph is clearly thrilled, Ranveer and Ranbir go back to a more serious mood. While the wink remains, Ranveer's smile is replaced by a pout and a little more stern expression. Ranbir's straight face conceals whatever he is thinking.