Priyanka Chopra graces the cover of Canadian magazine Flare. Check out the cover and inside pics.

The cover may not be that appealing as such but the inside pics are definitely hot damn! Check them out…
Priyanka Chopra has made it a mandatory rule in her book of global domination to feature in international magazine covers! Well, every month by the beginning of it or sometimes in the middle of the month, we come across one mag who has Miss Chopra as their cover girl! Oh no no, we're not complaining about that in fact, we actually feel quite happy whenever that happens. Not only do we get to swoon at her gorgeous looks and bod but also gain some nice tips on how to rock every look that comes your way! For the month of September, it's none other than Canadian mag, Flare, that has Piggy Chops as their featured diva.
You can already see what the cover looks like. Now before I get into the whole details of what she has worn and how the styling has favoured her, I'd particularly like to point out a thing or two about this pose. Having seen so many covers and even writing about most of them with Priyanka as the cover girl, something is different about this mag. Before the lameos start off with "the outfit is different, duh," that's not my focus point. It has to do with her pose. We usually see Chopra look straight at the camera or do some sultry poses for the shutterbug but here she is facing upward with her head looking straight up. To this, I'd like to conclude by saying that it looks as though PeeCee is smelling the growing scent of success that has got her on such a high note. Do you see what I see?
Let's get to her ensembles now. This pic from the photoshoot has her donning a chic beige Dior dress. I like how the whole off shoulder magic is being played by the diva. Oh however, the wet tresses are a little too done to death so many Priyanka you can ease on that.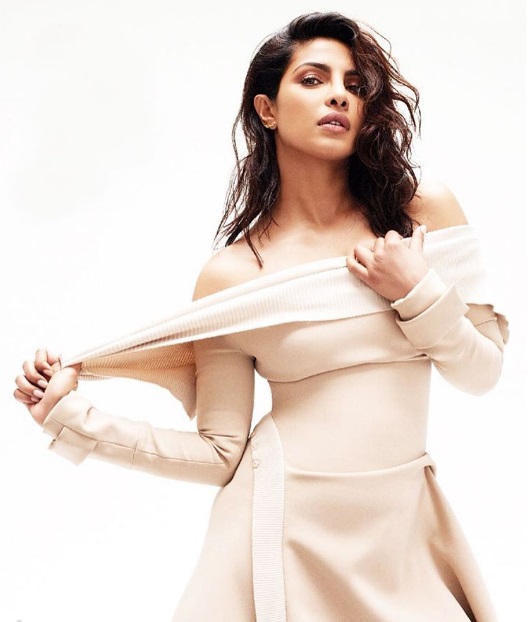 Oh yes! Daddy's li'l girl flashes her famous tattoo and looks resplendent in the striped Proenza Schouler outfit.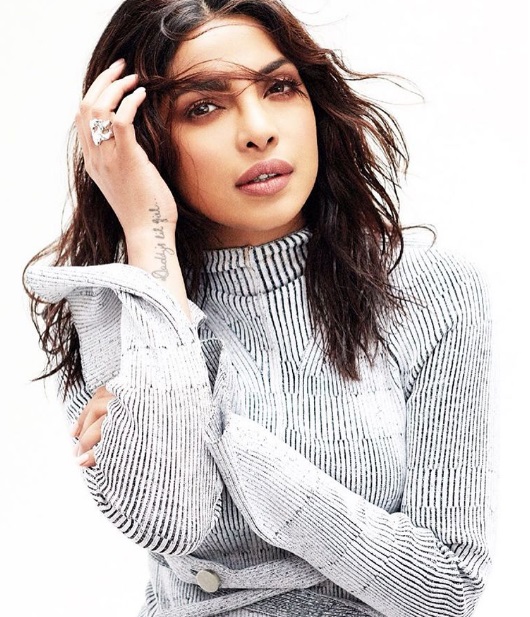 Okay this one is the best pic from the photoshoot not just because it's so bold but it also stands out. She's donning a Virgil Abloh denim jumpsuit. Doesn't she look sexy AF here?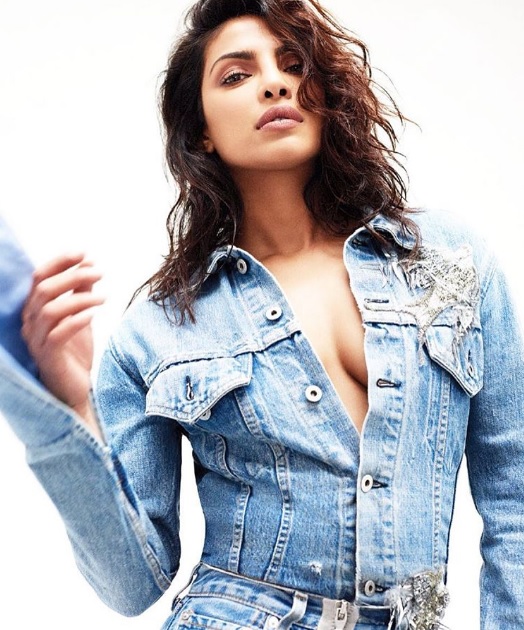 Well, even though she looks hot and all, this probably might be one of the most boring photoshoots she has done for magazines. What are your thoughts, BollywoodLifers? Tell us in the comments section below! And stay tuned to this space for more gossips and latest updates.