Check out the inside pics of Priyanka Chopra's latest magazine photoshoot!
And she definitely isn't afraid of competition! Check out the hot inside pics of her photoshoot!
Distance has never been a barrier to connect to or get connected by Priyanka Chopra. Even though currently the actress is busy with her Hollywood career in the US, she still makes sure that she is just as wanted at home. PeeCee has been featured in one of the fashion magazines, Harper's Bazaar India looking like a million bucks! Donning a sexy Dior outfit, we see the actress pose like a boss in this cover. Well, for Priyanka, posing for the shutterbugs, especially for a magazine photoshoot is nothing new. However, the fact that she is so perfect and poise is what makes every look of hers desirable to us.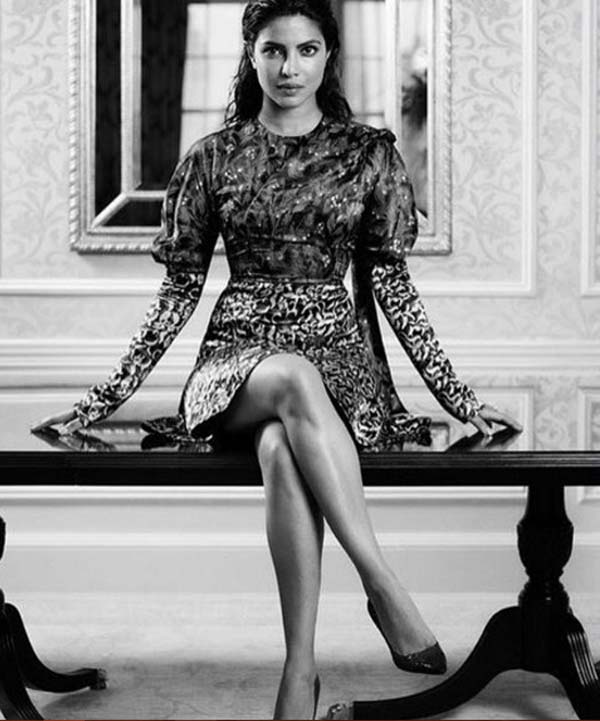 If you haven't noticed yet, there hasn't been a single month this year where the Quantico actress hasn't been the cover girl for a magazine! I usually cover magazines and photoshoots and this year, every month, not only have I been witnessing Priyanka take on the covers of various fashion mags (international ones too!) but I've been excited and expectant! You can see how she makes this chic yet sizzling look work as she wears the Dior outfit. From what I can see, this outfit totally belongs to PeeCee, doesn't it look wow on her? Oh but the cover is not the only thing we got our hands on! Here's another still from the photoshoot where she is slouching on the couch but with her poise maintained!
While Priyanka is making sure she balances her Hollywood and Bollywood career by featuring on both the industry's mag covers, Deepika on the other hand is going all out with her Hollywood stint. Even though PeeCee has more impact on the American crowd, it is DP who is winning big by featuring on some of the biggest brand names such as being featured in Variety and even getting her first cover on Paper Magazine! Not just that, the Padmavati actress has also become the 10th highest paid actresses around the world, according to Forbes list! As both of them are about to make their Hollywood debut next year, we wonder how much aggression we'll be seeing from these two!