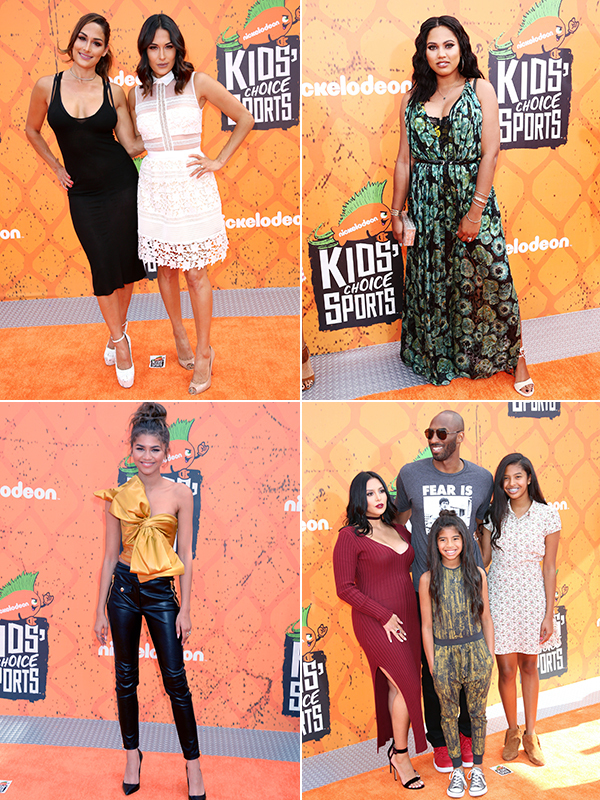 Omg! Sports' biggest stars totally slayed the red carpet at Nickelodeon's Kids' Choice Sports Awards on July 14! They went all out to
look their very best for their youngest fans. See Zendaya, Russell Wilson and more stars' awesome outfits, right here.
The host of the slimy evening, Russell Wilson, showed up looking extra sharp on the red carpet. He was extra handsome in a short-sleeved buttoned-up shirt with dark jeans and white sneakers. He looked great, but we would have loved to see his new wife, Ciara, by his side.
Steph and Ayesha Curry also walked the carpet, while holding hands. So cute! He wore a white t-shirt and black jeans with eccentric Converse sneakers, and his wife wore a teal and black floral frock. They looked so adorable together!
And how could we not talk about Zendaya, who looked like a giant present? No, we're not joking. She a strapless yellow top with a huge bow on the front. It sounds quirky, but we loved it! It's so fun for such an exciting event. She accessorized the look with black leather pants, black pumps, a messy updo and some shiny rings.
Everyone looked great, and no one disappointed!
This year's Kids' Choice Sports Awards on Nickelodeon is set to be the biggest and best yet! The first KCSAs happened in 2014, so this is the third year of the event honoring kids' favorite athletes from every sport and league. Clearly the stars were trying to outdo themselves from previous years (which were also awesome), and totally we think they totally killed it! Click through the gallery to see all of the looks from the night.