Kangana Ranaut was spotted after an event in Mumbai. She looked really hot in the ensemble that she chose to leave the hotel in.
If you keep staring at her back, you might be in deep trouble for you'll never be able to recover! It's never shocking to see Kangana Ranaut a style game because hey, she has done that one to death! We can't remember the last time Miss Ranaut had a rainy day with respect to her fashion pick. She has always slayed it sexy and even with her daringly different outings, there has never been a single moment in the recent past where we were able to pull her out and ask her why she wore something that doesn't go with her style. Once again, as she shuttles back and forth to USA for Hansal Mehta's Simran, we caught her right on time to fall in trouble, thanks to her sexy back! The actress recently attended an event, for which, she as usual wore something exquisite. But her non glamorous look is what really caught our fancy.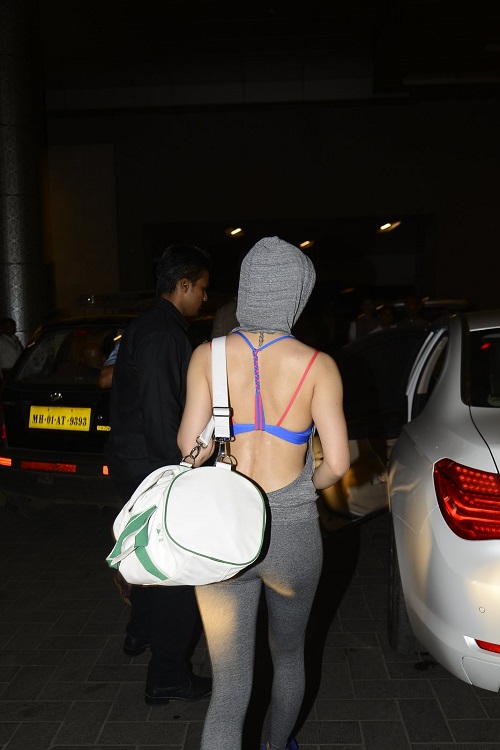 Initially, when we came across these pictures, it looked like a normal sleeveless hooded shirt with leggings to match and of course, a cap as well. That itself was a look too uber cool. However, little did we know that the real deal was the back! So our cameraman managed to click images of when the actress bid adieu to media and walked towards her car. Her back, her sexy back. Let's just take a moment here and gawk at this wonder! The fancy bra that the Rangoon actress has teamed up with her outfit is way cooler than the outfit itself. She's like a gangsta ninja trapped in a diva's body! Clearly, it was evident that perhaps the Queen was coming back from a gym session. But we could be wrong there.
It was earlier reported that the feminist actress put in a lot of conditions to work with biggies of the industry like Akshay Kumar, Shah Rukh Khan and Salman Khan. "Kangana is invested in a film beyond her own responsibility. She likes to collaborate on the script, costume and other departments. And Aanand had become uncomfortable with that even in Tanu Weds Manu Returns. He appreciates that she wants to be involved every step of the way, but he doesn't want to risk casting two headstrong personalities like Shah Rukh Khan and Kangana in the same film," revealed an insider. Already reports of Kangana losing an SRK film to Katrina Kaif were doing the rounds and with this statement that she is quite demanding of her producers and directors, we wonder if this might lead to some trouble for the actress.