Is that you, Jacob Tremblay? The 9-year-old, award-winning actor showcased a completely altered appearance on set of his newest flick, 'Wonder.' Portraying a boy born with facial deformities, it looks like Jacob will, once again, wow audiences with another emotional and brilliant performance!
Jacob Tremblay, 9, is gearing up for yet another dramatic role — this time as fictional character August "Auggie" Pullman, a young boy born with a disfigured face in the inspirational film Wonder. Jacob will be staring alongside Julia Roberts, 48, and Owen Wilson, 47, who play his parents. And I don't know about you, but we are PSYCHED for this movie!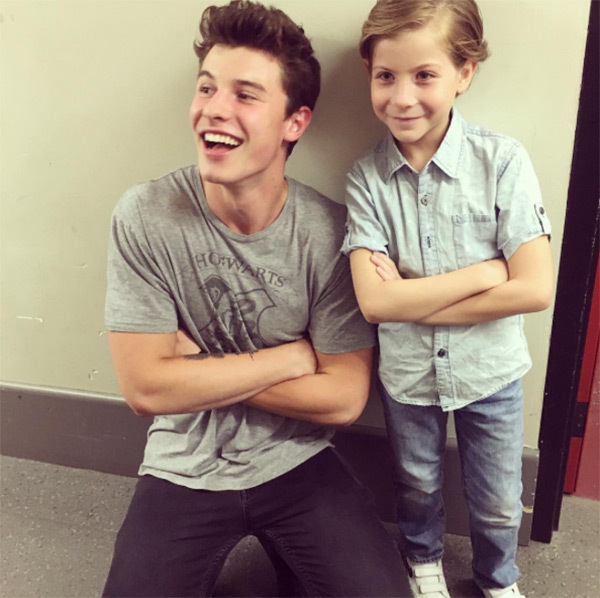 In the piece, which will hit theaters April 7, Jacob's character strives to be treated the same as his peers as he begins the year at a new school, entering 5th grade. The film is based on the best-selling children's novel by R.J. Palacio, with the script being written by director Stephen Chobsky alongside Steven Conrad and Jack Thorne — whose play Harry Potter and the Cursed Child is currently a huge hit in London's West End.
"The movie Wonder is about family, friendship, love, and most of all, it's about choosing kindness at every stage of life," Stephen told People mag. And the director also said that he chose to cast Julia and Jacob in the film not ONLY because of their immense talent, but because of who they are OFF screen too.
"Julia and Jacob are not only great actors, they are great people. One of the special things about the movie Wonder is that we cast the actors as much for their humanity as their talent," Stephen revealed. "Both Julia and Jacob are so normal yet so exceptional, not only at what they do, but who they are. That's what makes them perfect to play Isabel and Auggie. You have to be grounded to fly that high." Aw!
Sounds like this will be another stellar movie for Jacob to add to his impressive repertoire. Let's not forget that Jacob was propelled into stardom this past year after he totally killed his role in Room, at only seven years old! He even ended up winning a Critic's Choice Movie Award for that part. His latest credits include the thriller Shut In, adventure film Shut Your Maps, and Jurassic World director Colin Trevorrow's The Book of Henry.