Thanks to Judwaa 2, Taapsee Pannu's sartorial shenanigans are now on display
Taapsee Pannu is currently neck deep in promotional activities for Judwaa 2 and we should expect some stunning and beguiling fashion outings by the actress for the same. The actress, who's garnering accolades for her smoking hot avatar in the Varun Dhawan-starrer is giving us a worthy dekko of her high fashion sensibilities. We were the unfortunate ones who never really had any chance to witness this oh-so-gorgeous side of hers before but thanks to Judwaa 2, her sartorial shenanigans are now on display. And mind you, it will leave you stunned.
Kickstarting promotions for the day, Taapsee Pannu opted for an embellished grey mini dress from the house of Rose Room Couture. The Grey bead work appliqué dress, which will cost you 84,000 in Indian currency, looked every bit stunning and kudos to the actress for pulling it off so well. With those thin legs and a perfect figure to carry such mini dresses, Taapsee Pannu's stylist, Devki B did a great job by choosing this alluring outfit for her. Taapsee, who comes across as a very bubbly person is successful in nailing this couture look which is so chic! Considering her eye for detail and hunger to look great, we weren't surprised when she looked so stunning that we are bookmarking her look. Let's have a quick style recap of Taapse Pannu's ridiculously hot-yet-chic #OOTD.
Taapsee Pannu nailing her elegant outfit
Taapsee Pannu donned an appliqué grey bead work outfit from Rose Room Couture with ruffled hem and sleeves. Ruffles are always a favourite with us for they add an extra wow element to even an ordinary outfit. Her stylist played another important card when she didn't accessorise her look with any statement earrings and let the outfit do all the talking.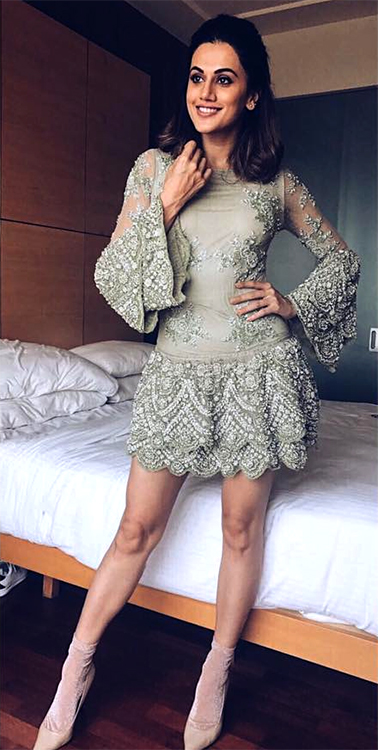 With light brown lips, strong eyebrows and highlighted cheeks, Taapsee Pannu's make-up stylist made sure that the actress doesn't go overboard with it. Matching her make-up with the outfit, Taapsee's stylist was successful in making her stand out. Coming to hair, Taapsee Pannu's short hairdo was cleverly highlighted when her hairstylist preferred to tie it in a half ponytail. With no fuss, Taapsee managed to look ravishing and desirable.
BL Style Verdict
When you star in a two-heroine project and the other lead is someone as stylish as Jacqueline Fernandez, you better raise the bar. Taapsee's fashion choices so far have been distinct and surprisingly refreshing. For someone who isn't a fashionista, such sartorial choices are always a welcoming change. But our only concern is the fact that she pairs socks with her footwear. If she's planning to start a new trend, then well, it's not really helping.