Female Hollywood execs are suiting up in a red-hot (but still corner office appropriate) Alexander McQueen look akin to what the Democratic presidential nominee wore at the Sept. 26 debate.
The Hillary effect is in full swing in Hollywood. Rodeo Drive and the luxury Beverly Hills department stores — specifically Neiman Marcus — have experienced an uptick in the demand for power suiting from female customers this fall. One red-hot Alexander McQueen pantsuit in particular started flying out the store doors in early September,
gaining even more popularity after Hillary Clinton stepped out in a similar Ralph Lauren style for the first presidential debate on Sept. 26. The single-button silk jacket with softly padded shoulders and slim-flit, flared trousers retails for $2,740. One salesperson dubbed McQueen's suit the town's "most coveted" piece now, noting that Neiman Marcus sold five in a week to high-powered Hollywood female executives.
"Instead of sticking to Democratic blue, Hillary wore red, the color of the Republican Party, to stand out and be seen in a bold way," Dr. Lillian Glass tells THR. Los Angeles-based Glass, a body-language expert and author, who counts Melanie Griffith and Sean Connery among her clients, adds: "It could also be a subconscious way of Hillary trying to taunt Donald Trump."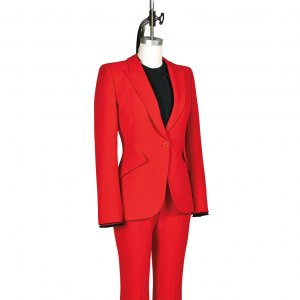 The recent spring 2017 fashion shows in New York, Milan and Paris were further evidence of the #ImWithHer fashion movement — designers from Michael Kors to Gucci to Givenchy (and of course, McQueen) sent boldly pantsuited models down the runway.
Note: Dana Asher Levine, a Beverly Hills-based personal shopper and executive stylist (her clients include Universal Pictures chief Donna Langley and ABC hit showrunner Shonda Rhimes), told THR that the red McQueen suit is no longer in production, so get it while it's hot!
A version of this story first appeared in the Nov. 4 issue of The Hollywood Reporter magazine. To receive the magazine