Bikini season certainly isn't over for Emily Ratajkowski. The supermodel just shared a series of pics of her in a teenie weenie polka dot bikini, and we can't get enough!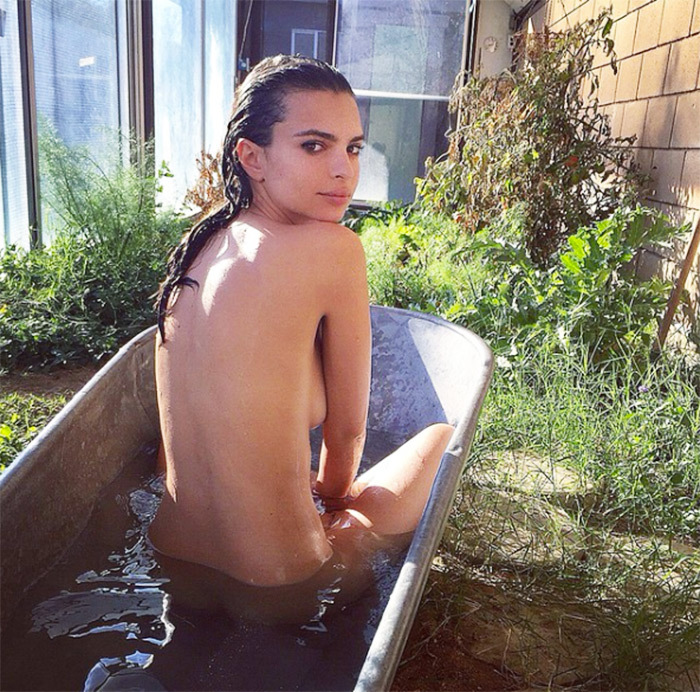 Just when you thought swim season was over, British beauty Emily Ratajkowski, 26, launched her new swimwear line Inamorta on Nov. 16, and we're totally obsessed! Emily is no stranger to super sexy photo shoots, but this one might just take the cake. The sexy brunette posed topless in a bathtub with her hair in a towel, showing off her beautiful olive skin… and of course, her assets as well. She also posted some photos looking super seductive in the back seat of a car in a cheetah print two piece suit — me-ow!
Emily's not the only sexy thing in this shoot though, the bathing suits are certainly something as well! So far her collection includes six different styles ranging from tiny bikinis to super sexy one piece suits. Emily chose some unique styles and colors too, including front tying one pieces to two pieces with ruffled sleeves. We know swim season is over, but these swim suits have us wanting to jump on the next plane to somewhere tropical ASAP!
When talking about the inspiration behind her collection to Vogue, Emily said, "I grew up in San Diego and I basically wore a bathing suit every day on the beach. When I was 16, sometimes I would literally wake up, not put on any clothes, and I'd put on a bathing suit and get coffees and burritos for the day." It makes sense that Emily would want her bathing suits to be super stylish and comfortable, then! As far as achievements for her line, Emily says, "My waist, and for women in general, that is the thing that you want to accentuate the most, and sometimes it can be really hard." Well we have to say, her designs certainly accentuate all the right places!