Stanley Ka Dabba director Amol Gupte, for example, didn't want to intimidate the child actors in his movie with big cameras and burning lights. So he used a small Canon 7D DSLR (5.8 x 4.4 x 2.9 inches) to shoot the entire flick.
"It didn't need any set-up time and would ensure the kids weren't pakaoed too fast," he says. "Children lose their spontaneity if they are made to wait while lights and set extensions are adjusted." The DSLR worked well in low-light and SKD was shot without any extra lighting.
Indeed, shooting with a DSLR is convenient for different reasons to different moviemakers. Sometimes it helps save costs and time, and sometimes its compactness allows the director to experiment more.
Where no camera has gone before"More than the 'cost and time-saving' factor, I was most attracted to the DSLR because its size made it possible to create a different language of cinema in terms of angles and movements," Varma says.
The weight of the Canon 5D Mark II is 810gms when compared to the 6.5kgs of film cameras. "This is the technology of the future. It can do whatever a conventional camera can do and a lot more," he says, while recommending these gadgets for suspense, action and horrormovies.
The DSLR can go to places a film camera cannot. It can be smoothly tracked under a bed where a conventional camera on a trolley cannot fit; it can pass between window grills, and even trace the body of an actor from foot to face.
Other filmmakers who've experimented with DSLRs include Raj Nidimoru who used it to shoot city scenes for the title track of Shor in the City.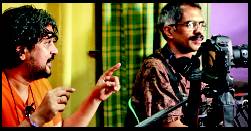 "It's handy and unobtrusive," Nidimoru says. "The camera, because of its size, didn't attract attention and could capture candid shots of traffic in Mumbai. It was handled easily from the backseat of a two-wheeler that sped through traffic.
"We're always looking for smaller devices," says the US-based filmmaker of Indian origin who will be shooting with custom-made cameras, half the size of DSLRs for his next film.
Budget bytesThe minimal size of DSLRs also allows for incognito shooting, thus avoiding the red-tapism of seeking permissions to shoot, say directors. Permissions to shoot in cities such as Mumbai are a long process and involve shelling out lakhs of rupees.
Anurag Kashyap circumvented the obstacle by opting to shoot with a DSLR. For That Girl in Yellow Boots, which stars Kalki Koechlin and Naseeruddin Shah, he borrowed money from a friend and went hunting for a 5D Mark II camera. He ended up buying a 7D on which the entire film has been shot.
At the time of the film's launch in 2010, he boasted on his blog, "We found out about Canon 5D and went looking for it and ended up with the new Canon 7D… We decided to go digital. Our guerrilla teams were ready, we decided we will shoot on the streets while the city celebrates Diwali; shoot we did, in front of the whole metropolis, only they did not know it.''
For newcomers and directors who have tight budgets, the DSLR makes life easier. They don't have to spend on lighting, film camera rentals, or film stocks.
On a film camera, to shoot 4 minutes of footage, a moviemaker needs 400 feet of film (1 can) that costs Rs 10,000. So for a film that runs for 2.5 hours, filmmakers end up spending huge sums only onstock. On an average, filmmakers use 400 cans. Compared to this, reusable memory cards used in DSLRs are highly economical.
"You can own a very good DSLR camera for a price of around Rs 3 lakh, which is much cheaper than even renting film cameras," says Nidimoru.
School of thoughtFilm schools such as Andheri-based FX School are also using DSLRs to train students who want to become cinematographers. "We started using DSLRs in 2009. The main advantage of the camera is that it gives near film-like quality at a fraction of the price of professional gear," says C B Arun Kumar, the director of the school. Kumar has used DSLRs such as the Canon 5D Mark II, Canon 7D, Canon 60D, Panasonic GH2 and Nikon D7000 to shoot movies.