Dil Bechara makes for a pretty good watch for those who haven't seen The Fault in Our Stars or read the book, but the ones who have will find it strictly decent. And in the few scenes where you are left choked or teary-eyed, is because of watching Sushant Singh Rajput for the last time rather than the emotional graph of his character, Manny.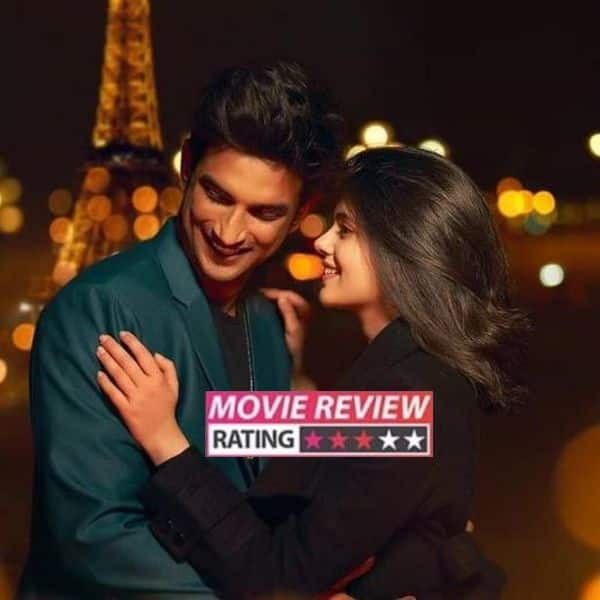 The day has finally arrived when we witness Sushant Singh Rajput in a movie for the last time. As we all know, the film in question is Dil Bechara, an official adaptation of Hollywood smash hit and one of the best romantic tragedies to be made, The Fault in Our Stars, which, in turn, was based on the book by John Green. Now as emotional as we may all be, a film needs to be professionally assessed purely on its merits, and that would be the best way to honour the memory of its lead star whom we all so dearly miss. After all, having known him, I can safely say that he wouldn't have wanted it any other way. Also Read – Dil Bechara: Sushant Singh Rajput-Sanjana Sanghi's film leaked online by Tamilrockers
Scroll below to read my full Dil Bechara review… Also Read – Dil Bechara: Ankita Lokhande puts out a post for Sushant Singh Rajput's swansong; Mrunal Thakur, Mahhi Vij, Nisha Rawal send her love
What's it about
For those who have watched or read The Fault in Our Stars, the plot is almost a frame-to-frame lift with a bit of changes in the beginning, a few changes in location with Amsterdam swapped for Paris during a major plot point and the characters digressing a bit in their decisions to suit the Indian milieu. Barring this, everything else is the same. For those who haven't seen it though…well…Dil Bechara is revolves around two cancer-stricken youngsters, Kizie (Sanjana Sanghi) and Manny (Sushant Singh Rajput). While Kizie has regaled her self to her despondent fate, the introduction of Manny in her life brings a breath of fresh along with a reason to live again, until tragedy strikes once more. Also Read – Dil Bechara: Sushant Singh Rajput-Sanjana Sanghi's film gets a 10/10 ranking on IMDB
What's hot
It's a pleasure watching Sushant laugh, cry, smile, dance and spread cheer one last time on screen, reminding us all what we'll forever miss. Sanjana Sanghi is up to the task, too, almost matching her senior costar step for step while the supporting cast, especially Swastika Mukherkjee and Saswata Chatterjee, prove more than able foils. The first half moves forward breezily, whereas the second half has some touching moments both for romantic-film lovers and SSR's fans. Satyajit Pande's camerawork also adds good flavour to the film and the editing keeps things moving along.
What's not
Dil Bechara is nowhere close to the league of The Fault in Our Stars, be it the movie or the book. While the movies is a decent watch, not once does it leave you choked or unable to prevent your eyes from welling up, which are the basic requirements of any good tearjerker. Forget the Hollywood original, even Bollywood has had far better tearjerkers like Kal Ho Naa Ho, Aashiqui 2, Taare Zameen Par, Anand, Masoom to name a few. Heck, even a movie like 3 Idiots made you cry and none of the main characters had to bite the dust.
Also, several plot elements remain unanswered, which is quite perplexing given that most of the film has been lifted, which goes to show important a role the screenplay writer and Director play even when adapting a great novel. Shashank Khaitan and Suprotim Sengupta's script needed to be smoothed plenty more and Mukesh Chhabra has a lot of work to do to transition from casting to directing. A.R. Rahman's music and background score, too, don't do much to built the mood.
Article : https://www.bollywoodlife.com/web-series/dil-bechara-movie-review-an-emotional-swansong-to-sushant-singh-rajput-well-supported-by-sanjana-sanghi-1661532/