Ranbir Kapoor and Deepika Padukone channel Katrina Kaif's Kaala Chashma in their ensembles! Check it out
Here's something that might make Katrina Kaif nostalgic! Surely there are a lot of things bringing ex lovers Deepika Padukone and Ranbir Kapoor together, if not in person but in pics. This time, the reason is none other than Kat and her Kaala Chashma effect. Now we very well remember what a rage, Katrina Kaif's song Kaala Chashma from Baar Baar Dekho was. The film may have tanked superbly at the box office but the best part about the ending of the film was this very song. In fact, we're ready to forgive Sidharth Malhotra and Kat for the film, simply because of this charged up number. The song even managed to ace at the chartbusters and gain 100 million views on YouTube. However, that's not why we're bringing it up. It's because of Deepika and Ranbir's latest outing that has given us this cue.
As we all know very well, Ranbir Kapoor is gearing up for his upcoming Karan Johar film, Ae Dil Hai Mushkil. He has been going about, promoting the film as well. If we're not wrong, we believe he's the only one from the team who is promoting the film as others namely, Aishwarya Rai Bachchan, Anushka Sharma and Fawad Khan aren't up for it for reasons best known to them. So yes, RK Jr was spotted promoting the film at a radio station. He looked quite dapper as he chose to keep it simple and black. That's a hue we've been seeing a lot lately. Anyway, so the actor was wearing a black tee with "Evening in Paris" inscribed on it. Along with the same, he chose black trousers itself. Now here's the twist that brings both him and DP closer in our frame. He chose to wear these round framed sunglasses.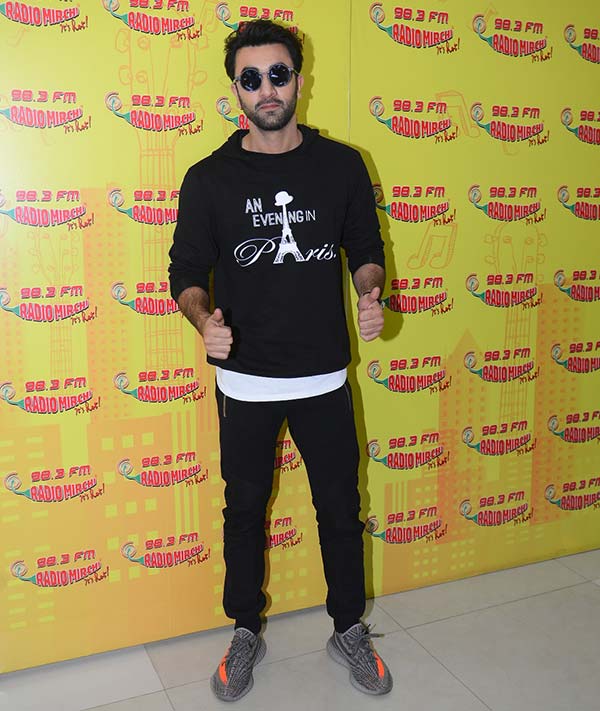 Well well, Miss Kaif. BBD may be one such movie that we want to erase off our memory but Kaala Chashma definitely isn't something we want out of our system. Sung by Baadshah and Neha Kakkar, Kaala Chashma fever took over Bollywood and fans during the promotions of Nitya Mehra's debut film. Kat was spotted grooving to the tunes of Kaala Chashma at almost every event and even during promotions. Who wouldn't? The song is so peppy that anybody would drop everything they're doing and will simply catch on with the tunes and of course, the addictive dance steps! And looks like this same Kaala Chashma fever has caught on with Deepika and Ranbir. Although it's a bit late but it sure is exciting!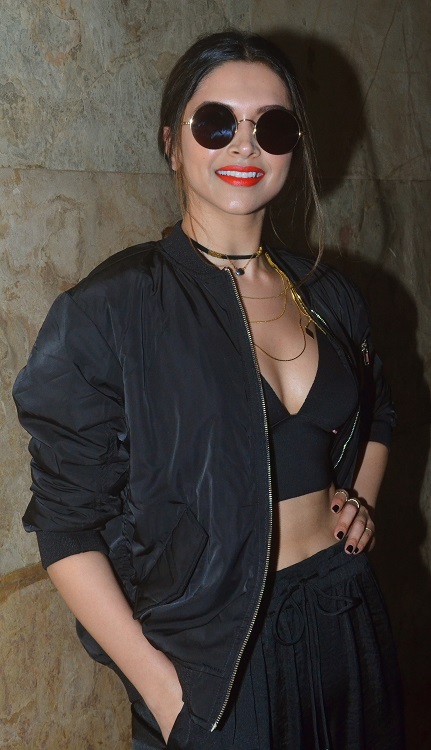 This isn't the first time in a span of two days that Ranbir and Deepika's past has faced the love of limelight. In fact, on 17th October, Filmfare magazine released their steamy cover that features Kapoor Jr and Aishwarya. The cover was super hot but a fan photoshopped Ash's face to that of Dippy's! Of course, it was sweet and funny of the fan to have done that but it soon caught on as fans started wishing and hoping for these two to come back together! Ah, fans! Anyway, check out our observation of this common thread between Kat, Ranbir and Deepika. What are your thoughts? Tell us in the comments section below! Stay tuned to this space for hot scoop!