Bollywood is going high-tech! Like its western counterpart, new-age film-makers are adopting top-of-the-line technology to shoot complicated action sequences, otherwise impossible to film with convent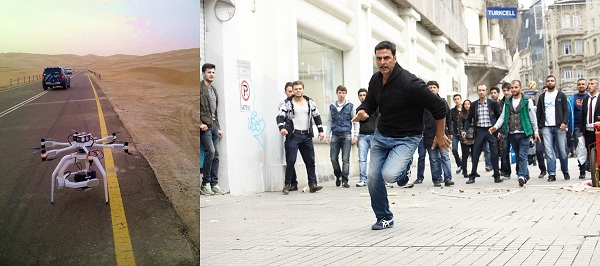 Neeraj Pandey and action director Cyril Rafaeli used the high-tech cams to grab fast paced sequences…
Bollywood is going high-tech! Like its western counterpart, new-age film-makers are adopting top-of-the-line technology to shoot complicated action sequences, otherwise impossible to film with conventional cameras.
Akshay Kumar's much anticipated film of 2015, Baby is an action thriller that has already grabbed eyeballs because of its high dose of action sequences. The film, helmed by Neeraj Pandey, is all set to give viewers a visual treat of action like never before. Along with Cyril Rafaeli, Hollywood's top action director (The Transporter, Hulk, District B 13), Neeraj used the Octocopter Drone to capture fast-paced, large-scale action sequences across the deserts of Abu Dhabi. The Octocopter is much like the normal drone but has advanced flexibility and payload capabilities.
Speaking on using this drone for Baby, DOP, Sudeep Chatterjee said, "Cutting-edge technology has expanded the imagination of filmmakers today. Virtually impossible live-action sequences are now achievable thanks to devices like the Octocopter. Neeraj and I were clear that we wanted a particular sequence in the desert to be as real as possible but the terrain did not permit the use of normal cameras. What we have achieved with the use of this drone was a revelation to all of us".