Where mascara can fall short, eyelash extensions deliver. Cue Blinkbar — the L.A. spot Selena Gomez, Chrissy Teigen and Renee Zellweger go to get fluttery.
Blinkbar is changing the lash game in L.A.
Created by film director Tirzah Shirai, the salon has become a celebrity go-to for long, full, voluminous lashes. For those who want to ditch the mascara routine, Blinkbar has an extensive menu of extensions in silk, mink or "cruelty-free" Siberian mink.
"I want people to walk in and feel safe and secure, a slightly social vibe," explains Shirai of her shop, which is girly but modern.
If you aren't close to Blinkbar's Santa Monica or West Hollywood locations, here are the five things you need to know before considering eyelash extensions. And remember: the eyes are too important to cut corners or look for a good deal.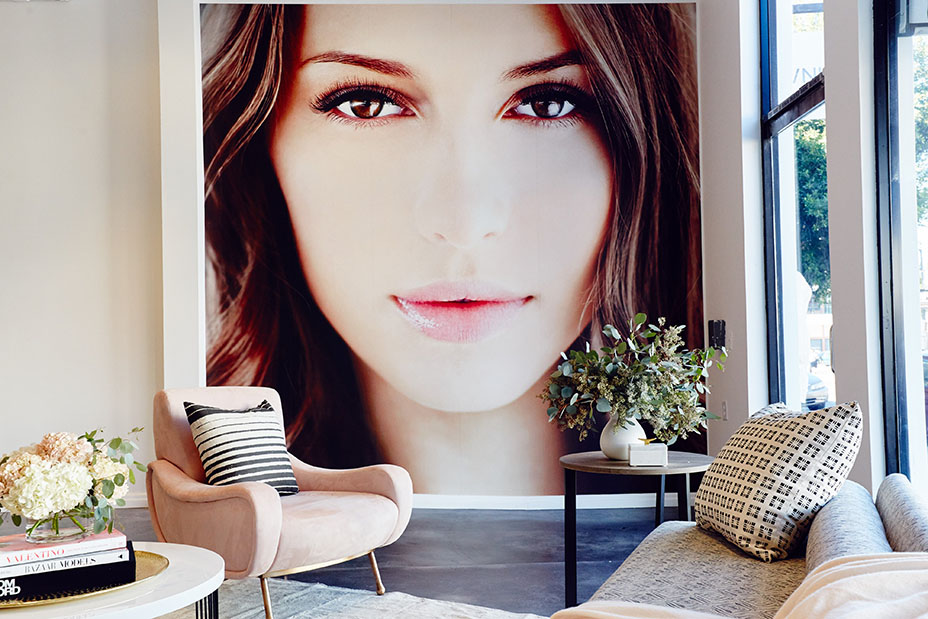 1. Do Your Research
"First of all, to clarify, the technique is one lash on one lash," explains Shirai, "That's really important." Individually applied lashes guarantee a natural look versus the alternative, which is cluster lashes applied with harsh glue that will cause (potentially permanent) damage to your lashes. When you're doing research, find out what glue the salon uses — Blinkbar has their own proprietary glue, a surgical-grade adhesive. Stay away from ingredients like formaldehyde. Ask how long the appointment will be, "If it ever takes under 90 minutes, you're not getting proper eyelash extensions," says Shirai, "Anyone who says that they can do them in under 45 minutes to an hour, it's just not possible — that would be an alarm bell to me." According to Shirai, this isn't a treatment where you should look for a good deal: "Under $100, it's really unlikely that they're doing one-on-one eyelash extensions." Blinkbar will fix the damage of work done by deals that were too good to be true. Average market price for high-end lash extensions ranges from $200 to $300 dollars for the first application. Feel free to ask for a technician who has several years' experience. You have the right make requests.
2. Before You Go, Check Your Eye Makeup at the door
Ok, you've picked your spot, and you're ready to roll. "We tell people in the welcome email that they should really come in with no eye makeup," says Shirai. "I would make sure that you don't apply eye creams or lotions around the eye on the day of your appointment." Avoid waterproof mascara in general, it leaves a clear coating that Shirai says prevents the lashes from sticking. This will save you time once you get to the salon. Plus, it gives you a chance to take a hard look at your lashes and pick what look you're going for. Blinkbar offers clients Xtreme Lashes by Jo Mouselli's Eye Makeup Remover & Facial Cleanser to make sure all eye makeup has been removed. It's a wonder product — if you're using micellar water or facial wipes to remove oil-based eyeliner and waterproof mascara (guilty as charged), make the switch to an eye makeup remover that removes all traces of makeup. You'll be surprised what gets left behind.
3. It's Painless
Relax, it can be a little daunting once the time comes. You may be thoughts like — "Oh my god, what am I doing?", "Am I losing it?", "Will this damage my lashes?", "Will this hurt?" Again, guilty as charged. But if you choose a reputable salon, you are in good hands. Blinkbar's technicians train for thousands of hours, generally four months of 40-45 hours-a-week. Once you are in the treatment room, your technician will take a look at your lashes, and talk to you about what shape and look that you're going for. Once you choose your lashes, the technician places a moon-shaped collagen pad on your bottom lash line. The process takes about 90 minutes. "If you ever experience pain, you should get up and leave the salon," explains Shirai. "That just means someone doesn't know what they're doing and they're pulling at your lashes." Another tip: a skilled technician will never extend lashes more than double your natural length.
4. Aftercare
After your lashes are applied, wait 48 hours before getting water near the eye area. The glue needs to dry and set properly. Your usual skincare routine will need to be slightly adjusted during this window. Avoid eye creams and oil anywhere on the face.
5. Upkeep
Last thing, don't be scared to keep your lashes clean — lint, even mites, can lay dormant in your lashes if you avoid cleaning them. Use a gentle cleanser like a baby wash or specialty lash wash. Use a blow dryer to dry your lashes, and a clean, unused mascara wand to flutter them up. Just like any other beauty routine, there's upkeep involved. Expect to visit the salon every 2-4 weeks to get filled in. It will be worth it.