Rihanna continued the fashion spectacle in a sheer dress after her Savage x Fenty show at NYFW on Sept. 12. You could see right through her dress, and right at the CEO's killer curves!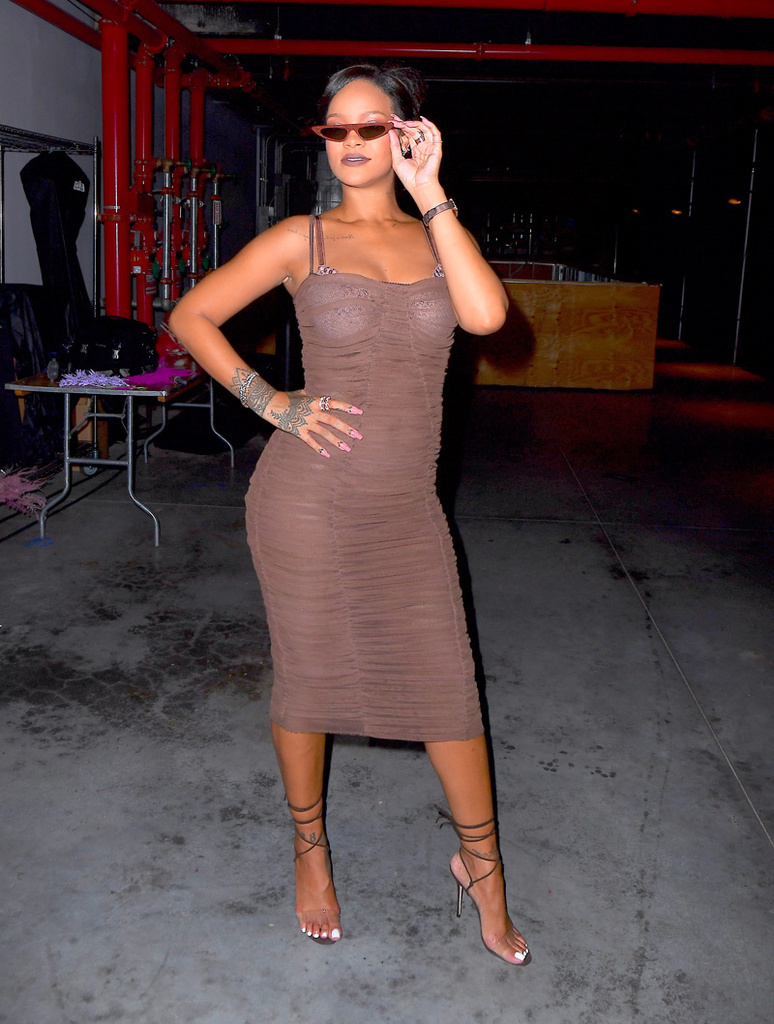 Rihanna, 30, sold us on her lingerie line! The "Lemon" singer's brassiere was very visible under the ruched dress that she wore after the Savage x Fentyshow in Brooklyn, New York concluded on Sept. 12. The whole experience, which was streamed live via YouTube, was visual stimuli to the max. Keeping in stride with the futuristic trends of New York Fashion Week, the show's setup mimicked a horticulture lab. But in addition to the greens, the models — which included Gigi and Bella Hadid — walked, pranced, and danced on the faux lawn in Riri's signature undergarments. And the show's leader herself ended the show with a graceful strut past her audience in coordinating mocha sunnies, lipstick, dress and heels, with a smile on her face. Riri was probably thinking the same thing as us — dang, she looks good! After the NYFW show, she changed into a sexy black leather dress.
And you can now own the fall collection too! The Anti singer posted a seductive picture to her Instagram before the show, wearing her label's Unlined Leopard Lace Bra in emerald…but no undies in sight! She accompanied the fairy tale-inspired photo (pictured below) with an important announcement: her new FW'18 collection dropped today, Sept. 12. So pull out your virtual shopping carts and head to the Savage X Fenty website. In addition to Rihanna's amazing entrepreneurial skills, we can't get over the curves that flaunt her products so well. And we have the scoop on how the CEO achieved her killer body!
"Since Rihanna celebrated her 30th birthday earlier this year, she's been super focused on getting into the best shape of her life," a source close to Rihanna . "She follows a strict workout regimen which includes hitting the gym five days a week with her personal trainer when she's not traveling. She makes sure to stay hydrated and loves cardio workouts, including cycling and jumping jacks, but also combines a focus on her core muscles with lots of repetitions."
No matter what Rihanna's weight is, we'll always think she's stunning. The fashion icon admitted she has a "fluctuating body type" in an interview with The Cut, published in June. "Well, I actually have had the pleasure of a fluctuating body type, where one day I can literally fit into something that is bodycon, and then the next day — the next week — I need something oversized; I need a little crop here and a high-waist there to hide that part, you know?" she told the outlet. "I really pay attention every day when I go into the closet about what's working for my body that morning."