Check out Priyanka Chopra's awesome looks for Baywatch promotions!

It may have drizzled a bit on the streets of New York but Priyanka Chopra did not take a rain check on the Baywatch screening. Instead, she decided to brave the downpour as she strutted out for her work commitments. From morning to evening, PeeCee chose some of the most daring looks for talk show appearances. And no, not once did she seem stern, thanks to the gloomy weather. In fact, she splashed her million dollar smile, every time the paparazzi caught her in a different look. We have seen Hollywood actresses do that a lot during promotions but rarely has that been the case in Bollywood. Perhaps the last time an actress sported different looks during movie promotions here was Alia Bhatt for Badrinath Ki Dulhania. Anyway, back to Priyanka.
So Priyanka made the slick roads of NYC her ramp and sashayed around wearing some of the most chic, cleavage accentuating outfits. Each and every look of hers deserves a spot in everyone's lookbook. Gosh, Priyanka certainly knows how to keep the fashion critics busy gushing. All the looks she sported are bold, edgy, different and very chic. Perhaps before any other Hollywood actor, Bollywood divas should take fashion cues from PeeCee! Because she can give the West divas a run for their money! Scroll below and check out her four looks.
She started her day with a gorgeous cleavage flaunting dress with duster coat and a white bag.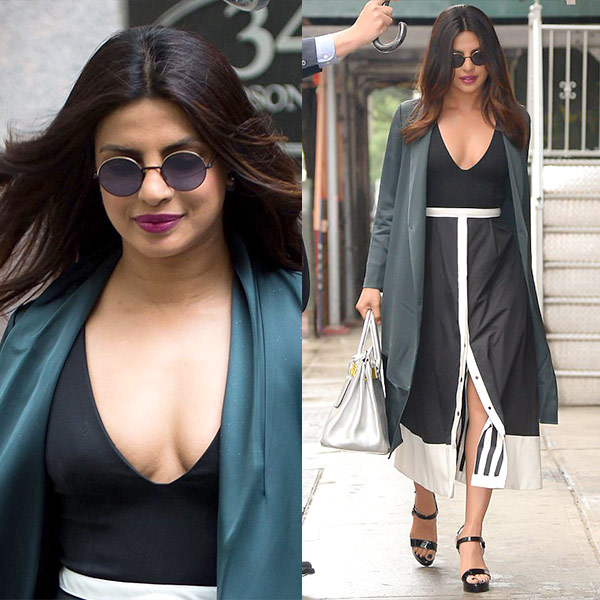 Later, the same day, for Good Morning America's shoot, Priyanka wore a lovely lavender skirt (dibs on that, if you ever put it up for auction, PeeCee!). The white full-sleeved shirt and high-waist skirt instantly became a much sought-after OOTD.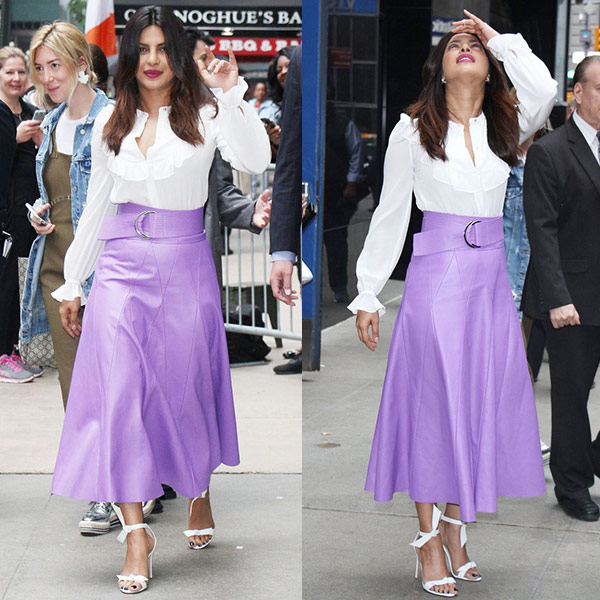 But little did we expect to see yet another edgy look from her. Wearing a sexy leather frock, she completed her look with a top knot and black booties. Priyanka soon teamed the look with a casual jacket as well but irrespective, we were already floored by the ensemble!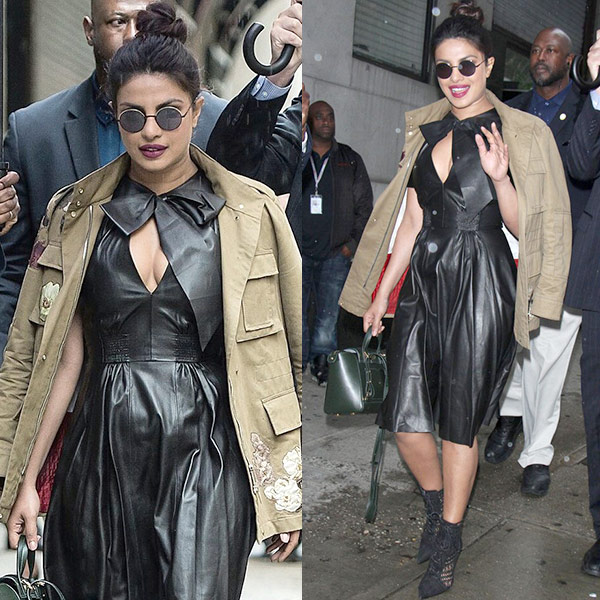 Finally, in the evening, for Baywatch's screening, she donned a Roberto Cavalli shimmery short outfit with a plain olive jacket. Letting her hair loose, the diva looked hot.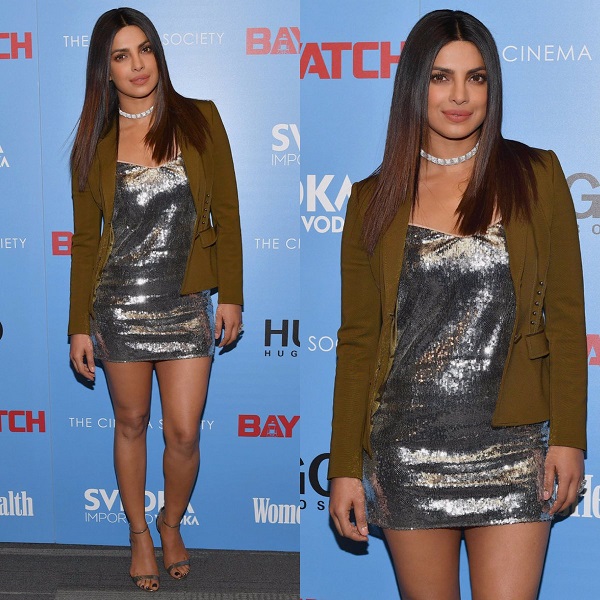 Out of these, which ones did you like the most? You can tell us in the comments box below. Baywatch is set to release in India on June 2. Stay tuned to this space for hot scoops and latest updates…