Oh what a night! Kendall Jenner turned 21 when the clock struck midnight on Nov. 3, and of course, she celebrated with a wild party in L.A. The whole family showed up for the bash — Kim Kardashian even made a rare public outing for the big night! See the pics and get some EXCLUSIVE details here!
Birthday girl Kendall Jenner, 21, brought out all the stops for her 21st birthday! The reality star looked beyond stunning as she hit the town at Catch L.A. for her party in a slinky, sequined, silver dress that only fell to the top of her thighs and showed off a TON of cleavage. The barely-there ensemble was completely backless, allowing her to show off the perfect amount of skin in the best way possible. Earlier, she looked super sexy in a snakeskin, skintight black jumpsuit.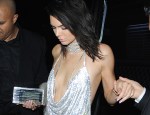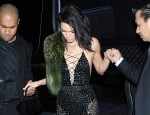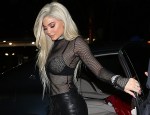 Of course, the birthday girl's famous family showed up, too — Kylie Jenner, 19, showed off her bra in a mesh top, Khloe Kardashian, 32, rocked a sexy LBD and Kourtney Kardashian, 37, gave us major leg envy in a short dress of her own. Caitlyn Jenner, 66, Kris Jenner, 60, Corey Gamble, and Scott Disick, 33, also partied with the bday girl, and Kim Kardashian, 36, came out of post-robbery hiding to shower her sister with love, too.