American actor Matthew Knowles (left) and Chinese actress Zhang Yi Shang (right)
The Chinese film, which features Oscar-winning costume and set designers, is believed to be China's most expensive production ever.
As China inches ever closer to surpassing North America as the world's largest box-office territory, its movie budgets are getting bigger, too.
Hollywood studio tentpoles routinely cost $100 million to $200 million to make, but China's biggest titles seldom top $50 million.
Stephen Chow's fantasy romp The Mermaid, which earned $550 million in February to become China's biggest local box-office hit ever, had a reported production budget of just $60 million — and many in the Chinese industry believe it was made for less (it's not uncommon for Chinese productions to exaggerate their budgets to attract attention, insiders say).
Asura, an epic fantasy film loosely based on Buddhist mythology, is perhaps a glimpse of the Chinese industry to come. With a budget of $100 million, it is said to be the country's most expensive fully domestic film ever. And THR got some first-look exclusive photos.
The debut directorial effort of Chinese filmmaker Peng Zhang, whose career as a Hollywood stunt coordinator goes back two decades (Ant-Man, The Twilight Saga, Scott Pilgrim vs. the World), the film features an international cast and veteran Hollywood production team, despite being a Chinese-language film intended first and foremost for the Chinese market.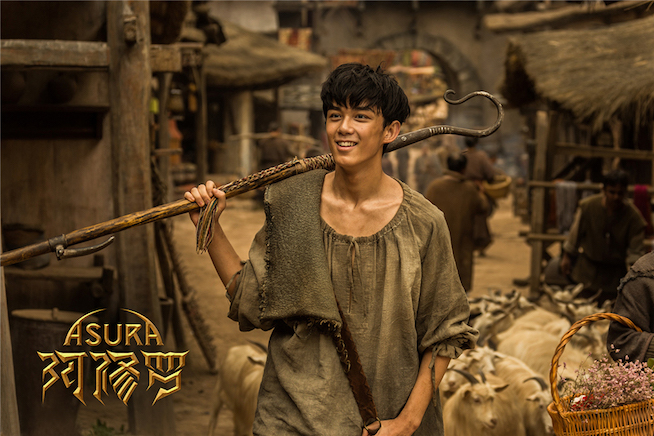 Young Chinese actor Lu Wei, known to fans as Leo, plays the film's hero.
Produced by Zhenjian Yang, who scored big in 2012 with Painted Skin: The Resurrection ($105 million, a big haul at that time), all of Asura's key production roles are held by Hollywood veterans, while the the rest of the crew is made up of Chinese staff — a strategy Yang pursued to both bootstrap the local industry's experience level and to give the film an international polish. The costumes, for example, were designed by Oscar winner Ngila Dickson (The Lord of the Rings franchise), while the sound design is done by Martín Hernández (The Revenant, Birdman) and visual effects are supervised by Charlie Iturriaga (Deadpool, Furious 7, The Social Network).
Asura is set in the mythical realm of Asura — the dimension of pure desire, according to ancient buddhist mythology — which is threatened by a coup from a lower heavenly kingdom.
The film will showcase remote locations across China.
Sixteen-year-old Chinese rising star Lei Wu plays the film's young hero, alongside Hong Kong veterans Tony Leung and Carina Lau. Eighteen-year-old newcomer Zhang Yi Shang is the female lead and love interest. The international elements of the cast are made up of American actor Matthew Knowles (based part-time in Beijing, Knowles speaks fluent Mandarin and is well-known to the local audience from roles in Chinese TV dramas like Love Me If You Dare, Deng Xiaoping and Red Star Over China), stuntman Damien Walters (Captain America: The First Avenger, The Huntsman: Winter's War) and British contortionist Bonetics Junior.
Still in production, Asura is being shot in seven locations across China, including Ningxia in the country's north and the Qinghai Tibetan Plateau.
The movie is financed and produced by Jack Ma's Alibaba Pictures Group, Ningxia Film Group, Zhenjian Film and others. The first in a planned trilogy, the film is targeting a summer 2018 release.