Mubarakan is fans' first choice for this weekend.
when we asked them to choose the movie they want to watch this weekend, they chose Mubarakan wholeheartedly. With 57 per cent votes, Arjun Kapoor's double trouble with Anil Kapoor received a lot of love. No wonder everyone is so hopeful that the film will make great numbers at the box office.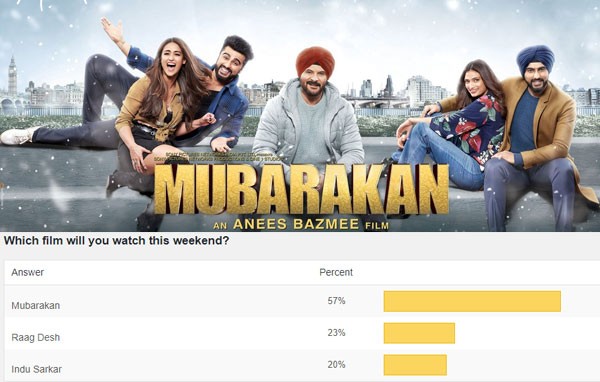 Mubarakan is a story about identical twins who are in love with two different girls but are facing issues in getting married to them. Enters their uncle who equally has issues in his life, but is ready to do anything for his nephews. So do they get married at the end? For that you definitely have to watch it this weekend. Arjun will be seen in a double role for the first time so it will be amusing to see him in the film. Then there is Anil Kapoor and Arjun's chacha-bhatija banter is something people are looking forward to it seems.
As for the two releases, Raag Desh got 23 per cent votes while Indu Sarkar got 20 per cent votes. Raag Desh speaks about the 1945 Red Fort Trials where soldiers of the Indian National Army were tried by the British Government for treason. Indu Sarkar is set in the period of Emergency when incidents were critical.