Deepika Padukone's tiny belt bag will cost you a fortune
Deepika Padukone's fashion choices are as regal as her on screen character in Padmavat. Ms Padukone prefers to have a strikingly different wardrobe, even if it sometimes means 'outrageous' in the conventional dictionary. Her style sheet has evolved through years and while she was played it safe back in the day, it's all about going bold and having fun with colours and patterns these days. Deepika's wardrobe might not impress you folks but that doesn't bother her. She's happy to live her life on her own terms and let the haters keep ranting. She's a diva in real life, unperturbed with all the fuss surrounding her fashion choices. While she likes to play subtle with her airport appearances (ignoring the floral Gucci pant suit) and hates to accessorize her outfits, there's a bit of a change in her choices. Deepika's recent airport appearance saw her experimenting with an accessory that might raise your eyebrows and leave you thinking.
Deepika Padukone doesn't necessarily like to flaunt her collection, but we can't ignore the act that she gets best of the lot when it comes to dressing up. She likes to stay basic and her handbags are usually simple . But that's not the case anymore. The black and gold studded leather belt bag from her recent airport appearance is distinctly different to rest of her appearances and we loved the concept. The cost of the same leather belt bag from the house of Gucci isn't as small as it size. The tiny belt bag of Deepika will burn a giant hole in your pocket, a staggering Rs 1, 20,000!. Not that we hate to splurge on our accessories but this one's way too much. But then again, if your annual income has as many zeroes as Deepika's, you wouldn't blink your eyes before picking such stuff.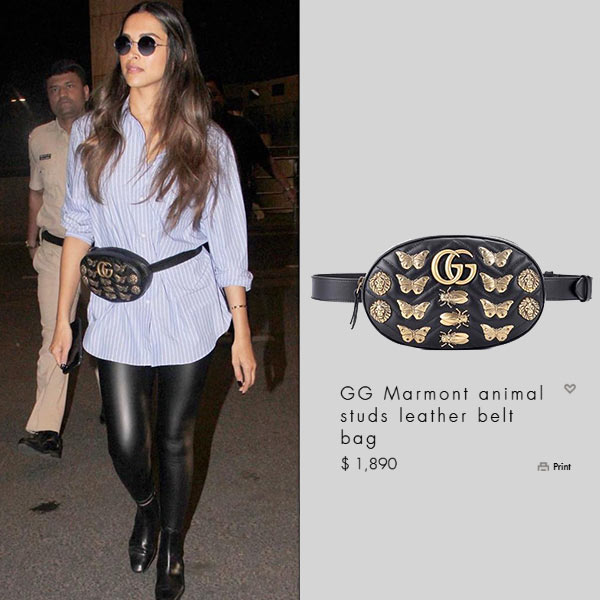 While we loved Deepika Padukone's belt bag and the fact that she's experimenting with her accessories for a change, we would like her to think about her fan base and maybe get into affordable accesories. . DP's 'All About You' collection is such a big hit with the girls and it's high time she makes the accessories section affordable as well. Waiting for DP to make an announcement soon!