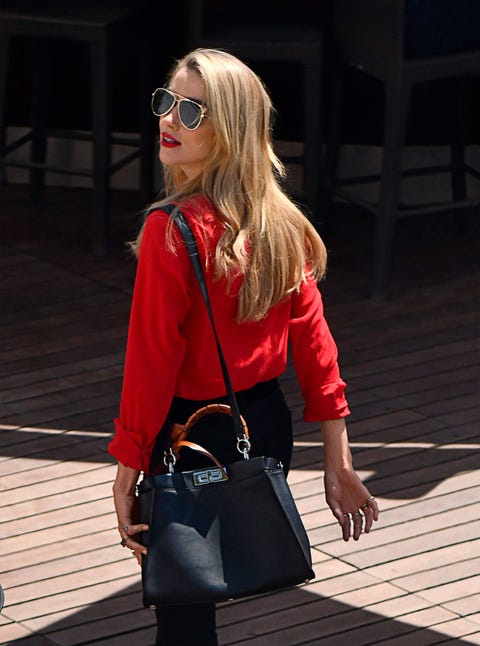 The hair and makeup experts who crafted some of this year's most memorable beauty moments explain how to re-create the magic.
Makeup
Beyoncé
Makeup Pro: Sir John
In the past year alone, L'Oréal Paris celebrity makeup artist Sir John has created Beyoncé's looks for her On the Run II tour, the Grammys, and Coachella (at right), where he was inspired by the show's marching band to make his client "the coolest girl on campus." No matter the occasion, "we always do brows," he says. "But that doesn't mean an Instagram brow—I want them to look super natural." The trick: filling them in with a thin pencil, like L'Oréal Paris Brow Stylist Definer, then setting them with gel, such as Glossier Boy Brow ($16). But before he starts anything else, Sir John treats Beyoncé to a facial massage: "I tap the skin to wake up the complexion and increase circulation," he says, which ensures that foundation lies smoothly on the skin and contouring looks seamless.
Jennifer Lopez
Makeup Pro: Scott Barnes
"I like to call it 'natural glamour,' " says Barnes of the bronzy makeup he did for Lopez at this summer's MTV Video Music Awards. "It's about a dramatic lash and a lighter touch of eye shadow"—in this case, Rich Gold from the Jennifer Lopez x Inglot collection. Next, false lashes. (Barnes prefers Falsettos, his new line launching later this month.) For best results, he suggests curving the fake lash around your finger first to help give it a more rounded shape to fit the eye. A swipe of Jennifer Lopez x Inglot Viva Las Lashes Mascara ($24) finishes off the look.
Emma Stone
Makeup Pro: Rachel Goodwin
One effect Stone always pulls off with aplomb is the bold scarlet lip, as seen at the LVMH Prize event in June. To create the look, Nars director of pro artistry Goodwin topped Nars Velvet Matte Lip Pencil in Mysterious Red ($27) with shiny Nars Full Vinyl Lip Lacquer in Red District "to make it more glamorous than usual," she says. "The combination of the matte pencil underneath gave it this really strong depth of color and pigment. Then I added the gloss on top, so it was this vivid, intense red."
---
Hair
Laura Harrier
Hair Pro: Lacy Redway
Harrier has Redway to thank for her gorgeous waves at the NYC premiere ofBlacKkKlansman. The Nexxus style and trends curator says the inspiration was "Diana Ross, and the vibe of how she wears her hair big and curly." To achieve the effect, Redway worked Nexxus Mousse Plus Volumizing Foam ($12) and Tigi Bed Head Superstar Queen for a Day Thickening Spray ($20) through Harrier's wet hair. Then she blew it dry using a round brush, wrapping each section around a Velcro roller. After the hair cooled, she re- moved the rollers, spraying each section with Nexxus Comb Thru Volume Finishing Mist before curling it around a one-inch iron, then clipping in place. To finish, Redway brushed everything out. "That's what gives it fluffiness," she says.
Michelle Williams
Hair Pro: Chris McMillan
Williams counts on McMillan to maintain her signature pixie, including for this spring's Met Gala. According to McMillan, the key to a cropped do is growing the top a bit longer and keeping the sides and back short. To style the look here, McMillan added Iles Formula Haute Performance Finishing Serum to Williams's damp hair and "parted it, combed it over, and made sure it was nice and flat on the sides." After her hair was mostly dry, he smoothed it with a blow dryer and a round brush. "I added a little bit more serum to the finished hair," he says. "It's really, really simple."
Gal Gadot
Hair Pro: Mark Townsend
Effortless isn't always easy. Case in point: the soft French twist that Dove celebrity hairstylist Townsend crafted for Gadot at this year's Oscars. "It looked like she could take one or two hairpins out, and her hair would come cascading down," he says. "But she probably had 60 to 70 hairpins in there." Townsend's secret to any updo is working in sections. "I clip three sections," he says. "Top, left side, and right side." He sweeps the rest of the hair into a chignon or knot, then incorporates the clipped areas. "That way, if you do a middle part and suddenly decide you want it on the side, you don't have to take the whole hairstyle apart and start over," he says. Townsend is never without his trusty Dyson hair dryer and dry shampoo (he loves Dove Unscented Dry Shampoo, $5), which he uses to create volume. "And I always end with Oribe Shine Light Reflecting Spray ($39)," he says.
---
High-Tech Anti-Agers
Stars, they're just like us? Not really, as their choice of at-home equipment demonstrates. Facialist Joanna Vargas, whose clients include Julianne Moore and Maggie Gyllenhaal, offers 30-minute sessions in her RevitaLight LED bed (at left) in her spas. Its collagen-boosting, inflammation-reducing powers have proven so popular with celebs, some have purchased machines for at-home use ($75,000). And that's not the only device they're making space for. After hearing her A-list clients rave about their OxyHealth Vitaeris 320 hyperbaric chambers ($21,900), Shani Darden, who works with Rosie Huntington- Whiteley and Chrissy Teigen, considered getting one herself. "It's supposed to speed up healing and keep you young forever," she says. "It helps with everything—stress and maintaining glowing skin."
---
Fantastic Facialists
When your skin has to be on point, these skin-care magicians have your back.
Shani Darden
Shani Darden Skin Care
Shanidarden.com; 310-745-3150
Star Clients: Emily Ratajkowski, Jessica Alba
Special Technique: Darden uses a variety of devices, such as microcurrent, ultrasound, and LED, along with a light peel. STANDOUT PRODUCT: Resurface by Shani Darden Retinol Reform. "Retinol boosts collagen and decreases fine lines."
Vanessa Hernandez
Vanessa Hernandez Skincare
Vhskincare.com; 310-849-4452
Star Clients: Gwyneth Paltrow, Jenna Dewan
Special Technique: Hernandez does everything from microdermabrasion to microneedling.
Standout Product: : M-61 PowerGlow Peel ($28 for 10). "Salicylic and glycolic acids and antioxidants keep skin glowing."
---
Mila Moursi
Mila Moursi Skin Care Institute & Day Spa Milamoursi.com; 310-274-1602
Star Clients: Charlize Theron, Jennifer Aniston
Special Technique: Moursi offers nanocurrent and radio frequency combined with massage and lymphatic drainage. STANDOUT PRODUCT: Mila Moursi Refining Lotion. "The glycolic acid cleans the walls of your pores."
---
Top Tanning Tips
Jules Von Hep, founder of Isle of Paradise, has spray-tanned the likes of Kendall Jenner, so he knows faux glow.
Exfoliate first using an oil-free scrub. "What you don't want to do is put a film on the skin," he says. "The oils in regular scrubs keep the skin hydrated for up to 48 hours. For me, that's a nightmare because that's 48 hours the tanner can't get through."
Start with self-tanning mousse and a Beautyblender ($20) to contour your cheek- bones and jaw- line. Wait four hours, shower, then apply full- body tanning water all over.
Set your work with translucent powder. "The inside of the elbows and décolletage tend to sweat," he warns.
---
Face Time
Two of Beverly Hills' most in-demand dermatologists draw back the curtain on what's going down in their exam rooms.
"We're doing a lot of earlobes," says NYC-based dermatologist David Colbert, MD, who's tended to Naomi Watts and Robin Wright and has a satellite office in Beverly Hills he visits every three to four months. Plumping deflated lobes with hyaluronic acid filler, like Restylane, helps earrings hang better. According to Colbert, injecting "forgotten" parts of the face is also big news. "It used to be that people would just inject Botox around the crow's-feet. And I'll do that, but I'll also inject a very fine little thread going right up to the eye, so it's not just doing the undereye area, but really perfecting it." Beverly Hills dermatologist Harold Lancer, MD—whose waiting area has hosted Brie Larson and Margot Robbie—uses neuromodulators (Dysport and Botox, for example) to erase lines on the elbows, knees, or cleavage. Neuromodulators and fillers need to be done at least a week before an event to give the product time to acclimate to the body. A series of laser treatments needs to be planned to end at least three weeks in advance of the big moment. "Lasers are usually used for color correction or pore reduction," Lancer says. "They're not a one-time treatment."
---
Body of Evidence
Because looking good doesn't stop with the face. Lancer employs the Venus Legacy radio-frequency device when "an outfit change dictates a need for treatment," he says. A 30- to 40-minute session can firm and lift areas such as the arms or breasts. Colbert's Runway Legs treatment, which includes a chemical peel and laser toning, is also popular. "It optimizes the shape of your legs," he says. For allover radiance, A-listers book "The Rub" with Vargas. The 60-minute service incorporates full-body microdermabrasion, followed by a massage with hydrating shredded coconut.
---
Color Us Impressed
These three hair colorists are responsible for the most enviable strands in La-La Land.
Lorri Goddard
Palihouse West Hollywood
310-560-0573
Star Clients: Reese Witherspoon, Ashley Olsen
Best Known For: Ultradelicate balayage highlights and low- lights that look born-this-way natural.
Standout Product: "Moroccanoil Protect & Prevent Spray ($30) protects hair from oxidization due to damaging UV rays," says the Moroccanoil celebrity colorist.
Tracey Cunningham
Mèche Salon
Mechesalonla.com; 310-278-8930
Star Clients: Dakota Johnson, Natalie Portman
Best Known For: Taking stars to color extremes and back again at the drop of a hat.
Standout Product: "I have clients do Olaplex Hair Perfec- tor No. 3 treatment," she says. "It makes hair much stronger."
Riawna Capri
Nine Zero One Salon
Ninezeroonesalon.com; 310-855-9099
Star Clients: Selena Gomez, Jennifer Lawrence
Best Known For: Perfecting rich brunettes and the sun- kissed, California-girl vibe.
Standout Product: Capri and her salon co-owner, Nikki Lee, are launching a hair-care line, In Common, this month, which includes a detangling and color-protecting Magic Myst ($35). "It's the first thing that goes on after a shower," she says. "It's like a daily moisturizer for hair."