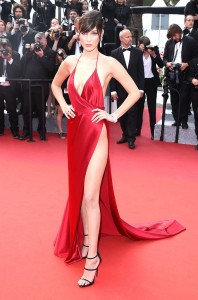 Bella Hadid in a red Alexandre Vauthier dress. (Photo: Mike Marsland/Mike Marsland/WireImage)
More
The simple-yet-sultry dress had a thigh-high split, spaghetti halter straps, and was completely backless. However, Sulcer was confident nothing would be exposed. "You have to consider everything. A fitting is not the same as wearing the dress. Bella is smart and confident, and we knew she could wear that dress," she said. "We knew we wanted to create something really beautiful and iconic in collaboration with Alexandre Vauthier. He is an amazing friend and talent in the industry. Every aspect of the dress was planned."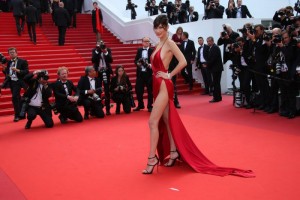 Model Bella Hadid poses for photographers at the screening of the film "La Fille Inconnue" ("The Unkown Girl") at the 69th Cannes Film Festival. (Photo: Joel Ryan/AP)
More
How did Bella Hadid manage to maintain her dignity while wearing a ridiculously revealing dress? Well, her stylist is spilling the secrets.
"The dress has a built-in silk bodysuit. Top-stick [tape] is always a good idea. Practice makes perfect," Elizabeth Sulcer told Vanity Fair.