In a flowing scarlet dress, Rafeea al-Hajsi fulfilled a dream by becoming the first Emirati model to strut the Arab Fashion Week catwalk after years battling social constraints.
"It's amazing to be on the catwalk… a lovely feeling," she said. "I enjoy it with all my heart."
As she prepared to model two dresses by Lebanese designer Aiisha Ramadan on Sunday, the model said excitement, fear and happiness all come together when she faces the audience.
"When I see the lights on my face, life lights up with the feeling that international fame is ahead," she said.
A curvy brunette with long hair, a square jaw and light brown eyes, her passion for being on camera was obvious, even backstage.
Surrounded by make-up artists and overwhelmingly Western models, she posed for the cameras in a black mini-dress, casting sultry looks.
Her phone never left her hand as she took selfies, uploaded clips, and streamed live video.
"Even if I keep working 24 hours, I have no problem at all with modelling," she said.
She said she faced many obstacles in a conservative Muslim society where most local women cover themselves from head to toe in black abaya robes.
"I consider myself a very courageous girl to be in this field," she said. "It was very difficult for me to become a model, especially as an Emirati."
Hajsi started off modelling traditional local costumes. She declined to give her age, but said she had to wait years for society to "open up a little".
"It took around eight years for you to see me standing here in front of you," she said.
After five years of modelling local clothes, she started presenting radio and television shows, which opened up opportunities to move ahead in the world of fashion.
'Sacrifice'
Hajsi's first appearance at a fashion show was earlier this year in France, when she modelled for Lebanese designer Ziad Nakad at Paris Fashion Week.
She appeared at Thursday's opening of the third Arab Fashion Week, which takes place twice yearly.
On Sunday she took to the catwalk to model a long red one-sleeved dress and another off-shoulder black gown — both from Aiisha Ramadan's Spring-Summer 2017 collection.
The designer, also Lebanese, said her varied and colourful dresses were inspired by trips to amusement parks with her two-year-old daughter.
She said Hajsi's fuller figure made her stand out from super-thin fashion models, meaning women could relate to her.
Hajsi "has a waist," she said. "To me, this is my client. Rafeea represents the beautiful Arab girl."
"We made her wear something very simple to show that the Arab girl knows how to dress in something simple and how it suits her."
She agreed that Arab models often face barriers keeping them out of the fashion world.
"For the model to become international, she needs to reveal a lot of her body and this can be unacceptable in (Arab) culture," the designer said.
Hajsi admitted that she keeps society in mind when considering modelling offers, saying she has turned many down because of the revealing designs.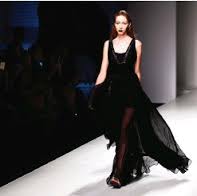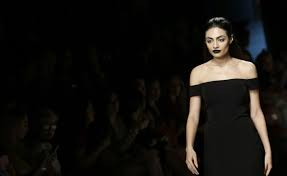 "There are limits that I always consider," she said.
"It's painful. Sometimes there is a dress I really like and which the designer wants me to wear, but I can't because the design is not suitable for our society."
"I sacrifice international fashion shows that are great opportunities for me, just to be considerate towards our society and my family," she said.
But she added that Arab Fashion Week showed Emirati society was becoming more open towards fashion.
"I fought many things in my life as a model," she said. "As you can see, I've reached a level where I am satisfied."
She flashed a big smile and headed off to pose for a nearby photographer.