Deepika Padukone deletes a cryptic tweet and we have a screenshot of it, only on BollywoodLife…
Err…We wonder what was Deepika Padukone trying to say through this suspicious tweet that she put up last night and deleted it, soon after. Yes! Deepika, who's usually known for only retweeting stuff or say replying through emojis, surprised us with her tweets late in the night. But probably, the words didn't come handy as she happened to make this incomplete tweet saying, "and for this I have a lot of" Strange right? We quickly took a screenshot of this and have been trying to crack it, ever since.
However, you know what's more to this? Before putting this above tweet, Deepika had also tweeted a continuation to it which had words like "especially the y.." although we couldn't get a screenshot of it for she deleted it within a fraction of a second. Deepika's got us not just anxious but also her fans who started asking her questions. You certainly need to check out how her followers reacted soon after she made this cryptic tweet.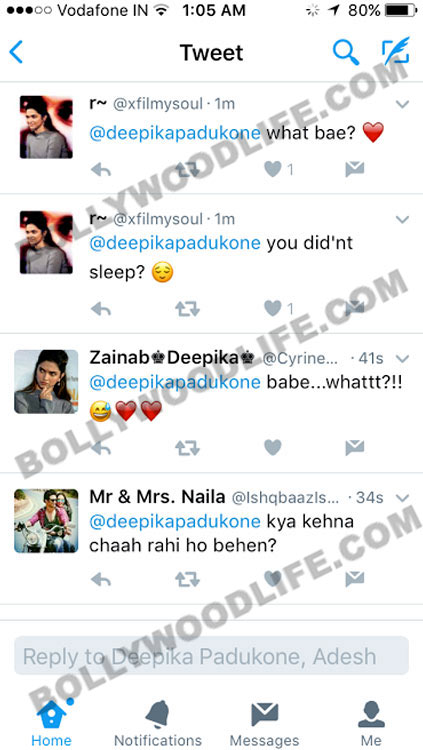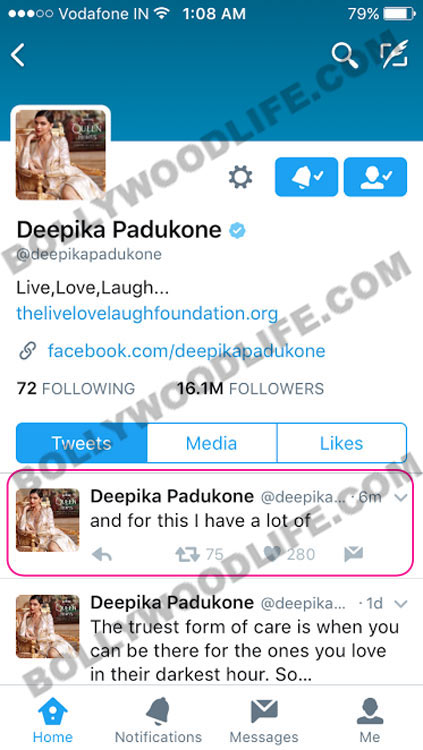 While many of her fans tweeted back love and concern saying, "what happened love? What happened bae? Why didn't you sleep still?" One of her fan even went on to suspect if Deepika's account has been hacked. However, thankfully nothing as such happened or else Deepika would have definitely clarified about the same. But with no clarification and all tweets being deleted, it only proves how it was just an honest mistake from DP's end which was immediately corrected. C'mon, now we all face such days right? There have been times when you happen to tweet to the wrong person or suffer a typo. But luckily Deepika escaped the damage without revealing much in the above tweet. We wonder if it was Deepika's social media manager who did this blunder. If so we bet they would be in trouble for this faux pas.